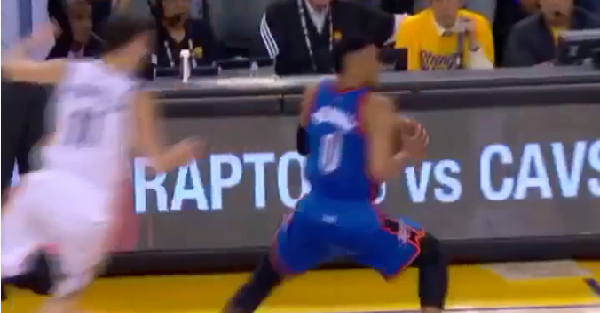 The Oklahoma City Thunder have been a part of a few questionable and controversial endings in this year's playoffs, mostly in their last series against the San Antonio Spurs. Why should the team stop now that it's in the Western Conference Finals?
RELATED: Spurs get hosed on OKC no-call
In the first game of the series against the Golden State Warriors, OKC was up by three and got the ball back and Russell Westbrook raced up the court to get a timeout. However, it looks like he traveled on his way there and no call was made except to grant him the timeout.
The NBA's senior vice president of replay and referee operations said it should have been called a travel and that would have given the Warriors a chance to tie the game and potentially go to overtime. Instead, the Thunder ended up winning 108-102 in regulation and the two minute report will not give the Warriors any solace.
Some people claim they saw Thunder coach Billy Donovan try to call a timeout before the travel happened, but if that was the case then there should have been some time put back on the clock to give the Warriors some more time to make a play. Either way, this is another auspicious start to a Western Conference playoffs series.