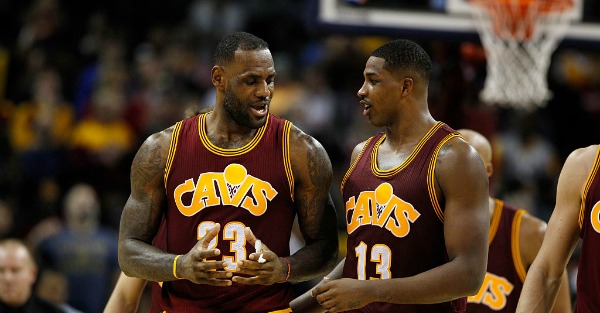 David Maxwell/Getty Images
CLEVELAND, OH - DECEMBER 17: LeBron James #23 of the Cleveland Cavaliers talks with teammate Tristan Thompson #13 during the second half against the Oklahoma City Thunder on December 17, 2015 at Quicken Loans Arena in Cleveland, Ohio. The Cavaliers defeated the Thunder 104-100. NOTE TO USER: User expressly acknowledges and agrees that, by downloading and or using this photograph, User is consenting to the terms and conditions of the Getty Images License Agreement. (Photo by David Maxwell/Getty Images) *** Local Caption *** LeBron James; Tristan Thompson
The Cleveland Cavaliers are hopeful that forward Tristan Thompson will return to the lineup sometime this week, according to Dave McMenamin of ESPN.
Thompson previously suffered a left calf injury at the beginning of November and has missed the last 16 games for the Cavaliers. He participated in a 4-on-4 practice at shootaround on Wednesday and the team is going to see how he responds from that practice.
"Not sure how he?s going to feel after today when he got done working out, so just trying to get a gauge on how he feels today, if there?s any soreness or pain or anything and go from there,? head coach Tyronn Lue said of Thompson.
As it looks like Thompson is nearing a return, the Cavaliers could also get Isaiah Thomas back from injury as well in the near future. Thomas has yet to play a game this season for the Cavaliers as he has dealt with a torn labrum and other related hip injuries. He also participated in a 4-on-4 practice as well on Wednesday with Thompson and could be returning soon. The team is reportedly aiming to have Thomas return by the Christmas Day game against the Golden State Warriors.
While the Cavaliers have been without two key members of their roster, they have been able to manage without them playing. The team has currently won 12 consecutive games and is now second in the Eastern Conference after beginning the year with a 5-7 record.