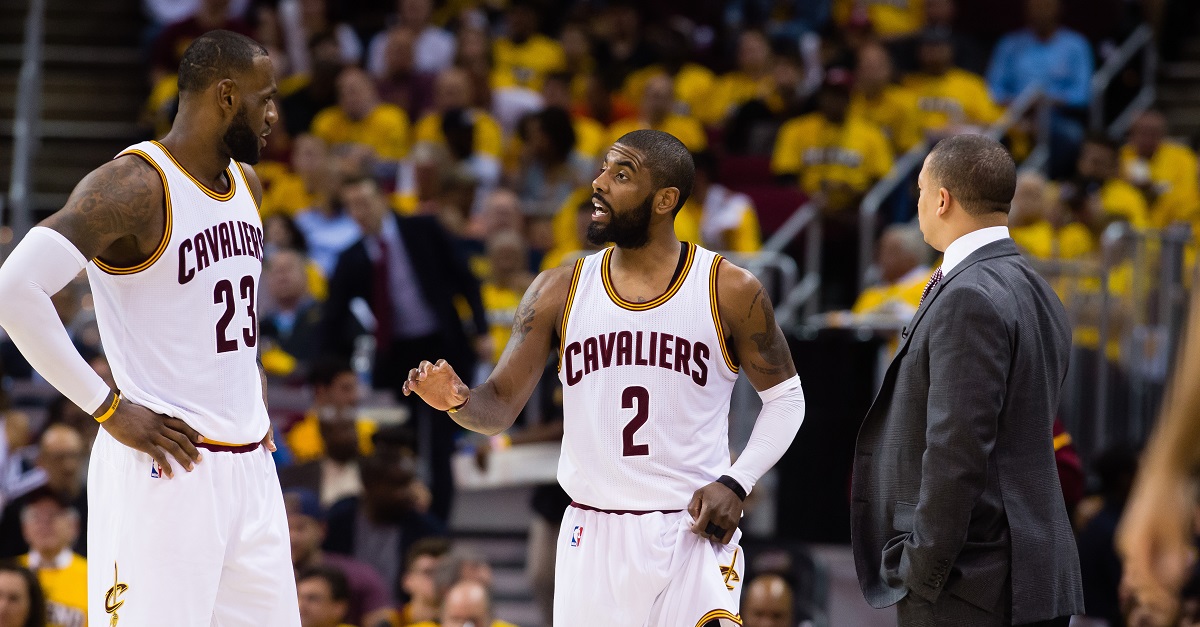 Jason Miller/Getty Images
CLEVELAND, OH - MAY 1: LeBron James #23 Kyrie Irving and head coach Tyronn Lue of the Cleveland Cavaliers talk during the second half of Game One of the NBA Eastern Conference semifinals against the Toronto Raptors at Quicken Loans Arena on May 1, 2017 in Cleveland, Ohio. The Cavaliers defeated the Raptors 116-105. NOTE TO USER: User expressly acknowledges and agrees that, by downloading and or using this photograph, User is consenting to the terms and conditions of the Getty Images License Agreement. (Photo by Jason Miller/Getty Images)
As members together on the Cleveland Cavaliers, LeBron James and Kyrie Irving became quite familiar with each other on the court. While the chemistry the two players displayed seemed to be impeccable, one practice session offered a glimpse at how the two achieved such great chemistry and it didn't go over well with the rest of the team.
The two would often stay late after practice to continue working on shots. As practice wrapped up one day during the 2015-16 season, James and Irving stayed so late after practice that it held up the rest of the team and it prompted then assistant head coach Tyronn Lue to berate James and Irving in front of the whole team.
Jason Lloyd's book, "The Blueprint: LeBron James, Cleveland's Deliverance and the Making of the Modern NBA," details the incident.
According to the report, Irving and James sayed on the floor shooting, while the rest of the team sat on the sidelines.
"He doesn't get it," Varejao joked with me. "This is life with LeBron. Sometimes you wait."
"I will never leave the court without (Irving)," James told me. "Meaning if he's the only person in there shooting, I'm not going to leave. I'm not. And he knows that."
That apparently led to then-assistant Tyronn Lue exploding at James and Irving.
"Let's go!" Lue shouted across the gym. "This is fucking rude and disrespectful!" James chuckled and told him not to get so upset in front of the media, even though there were only a few of us there at the time.
"They can leave us. They don't have to wait for us," James told me later. "We know the way back."
James has been known to be difficult to play with at times because he demands so much from his teammates. This particular incident is likely one of the many moments during the course of his career that has rubbed some teammates the wrong way. While James may have proven to be difficult to play with, it offers an example how he has become arguably the game's best player.
The work the team put in that season clearly paid off as the Cavaliers would go on to win the NBA Championship after erasing a 3-1 series lead by the Golden State Warriors.