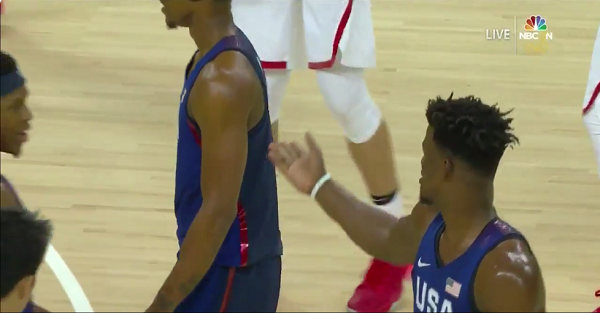 Twitter/@BBallSociety_
USA Basketball was facing off against China in that event that takes place every four years. This year it's in Rio de Janeiro and it looks like the basketball team will have plenty of time to spend at the nice beaches there. They took care of China handily behind a 119-62 rout and it was so bad that some guys were playing other games in the middle of this one!
China was handed a technical foul and instead of one guy running to take the free throw for Team USA, DeMar DeRozan and Jimmy Butler decided they should play another classic game to decide who shoots:
And one more look:
Simply stunning. This is just the kind of stuff you can't make up. Hopefully the rest of the games get a little more exciting than this one did or we could be seeing a lot more "Rock, Paper, Scissors" duels in our future.
[h/t For The Win]