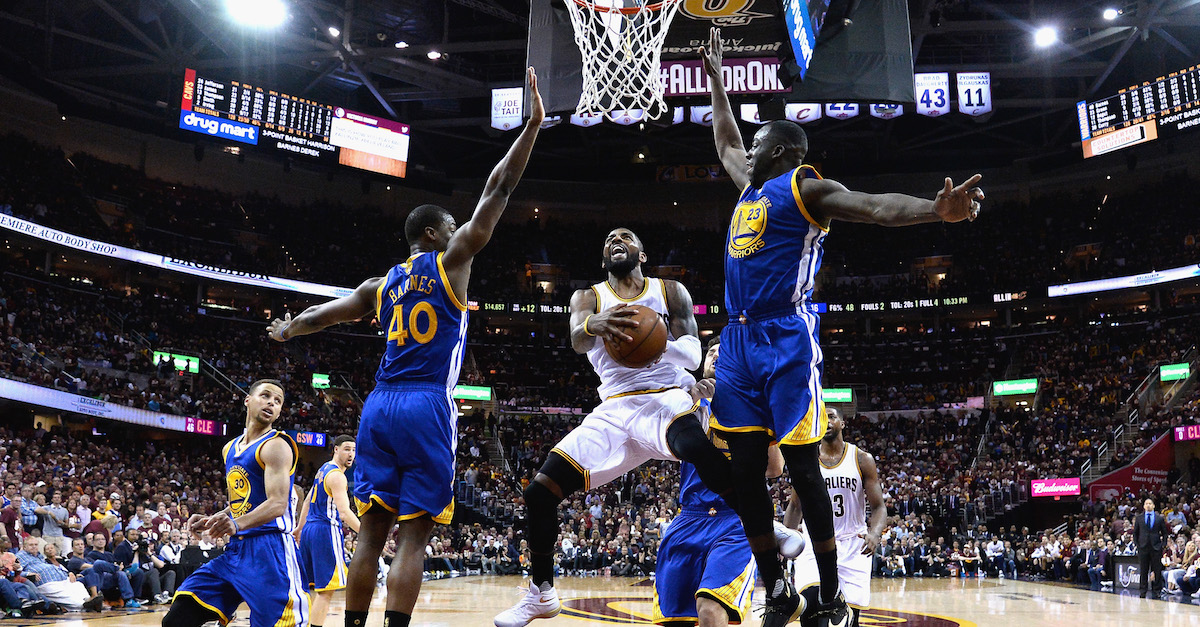 CLEVELAND, OH - JUNE 08: Kyrie Irving #2 of the Cleveland Cavaliers drives to the basket against Harrison Barnes #40 of the Golden State Warriors and Draymond Green #23 during the second half in Game 3 of the 2016 NBA Finals at Quicken Loans Arena on June 8, 2016 in Cleveland, Ohio. NOTE TO USER: User expressly acknowledges and agrees that, by downloading and or using this photograph, User is consenting to the terms and conditions of the Getty Images License Agreement. (Photo by Larry W. Smith - Pool/Getty Images)
Kevin Durant's decision to become a Golden State Warrior will have some consequences as far as keeping other guys on the roster goes. The Warriors already had to get rid of Andrew Bogut to make room for Durant's contract and are close to making that happen with the Dallas Mavericks.
RELATED: Kevin Durant is going to GSW
Durant's signing has also set in motion some other free agent deals like Pau Gasol going to San Antonio and now Harrison Barnes likely headed to Dallas. The Mavericks offered him a max deal for four years worth about $94 million and he is going to take it since the Warriors will be unable to match it.
RELATED: Pau Gasol is headed to San Antonio
With the Mavericks losing Chandler Parsons to free agency — and signing with the Memphis Grizzlies — they needed another small forward to complete a starting lineup and try to compete in the ever-rugged Western Conference.
Barnes averaged 11.7 points, 1.8 assists, 4.9 rebounds and 0.6 steals last season while starting in 59 of the 66 games he played in the regular season. He was much maligned for his terrible shooting during the course of the playoffs as he only averaged nine points and 4.7 rebounds per game while shooting an abysmal 38.5 percent from the floor.