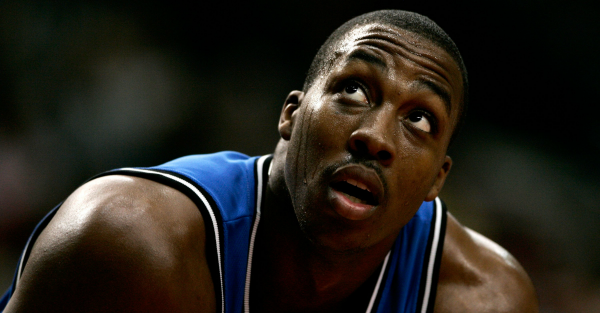 RELATED: Could Dwight go back to Orlando?
___________________________________________________________________________________________
There have been rumors swirling out there that Dwight Howard might be making a return trip to the place that launched his career — Orlando. The Magic could probably use a player of his caliber — assuming they could get him at the right price in free agency — and he would give them a legitimate twin tower duo paired with Nikola Vucevic.
However, most fans would probably be opposed to this considering how Howard left the team and the city in the first place. He threw coach Stan Van Gundy under the bus for the team underperforming in the 2010-11 season and forced his way to Los Angeles to play with Kobe Bryant and Steve Nash for a season that saw the team miss the playoffs entirely. That trade led to the Magic getting Vucevic as well as Tobias Harris and made the organization look genius a couple seasons later for pulling off that "heist."
Now, Howard is with the Houston Rockets and will likely opt out of his current contract with them to sign for mega money somewhere else. Former No. 1 overall pick and Orlando Magic center Shaquille O'Neal thinks that landing spot could be Orlando again. From ESPN:
?I think it would be good for the city. First of all, after the first time he left, letting a big young guy get away, it shouldn't happen a second time. All the puzzle [pieces] have to fit.?

?

?If you have respect for one another, I think you have to delete the word differences 'cause business is always going to be business. The DeVos family [which owns the Magic] I have respect for. It can definitely work, as a general manager and owner we're not just going to be bringing people back, we're trying to get to that next level. If that guy can't get us to the next level, then it don't make sense.?
The Orlando Magic have a ton of cap space — they are on the hook for about $35.5 million with the cap estimated to be around $90 for the 2016-17 season — and could use some extra big men with Andrew Nicholson, Dwayne Dedmon and Ersan Ilyasova acting as the backups right now.
Shaq might also be saying these things because he is represented by the same agent as Howard and he would like to see the big man return to his roots. He may also be trying to live vicariously through him since O'Neal never got to play again in Orlando after bolting for L.A. himself in 1996.
Either way, Magic fans should at least open themselves to the idea of a reunion if the team can sign Howard at a decent price. It could make the Magic relevant again and get them to the postseason.