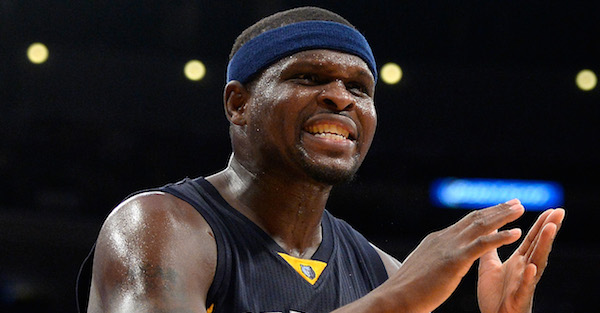 Harry How/Getty Images
LOS ANGELES, CA - NOVEMBER 26: Zach Randolph #50 of the Memphis Grizzlies argues for possesion during a 99-93 Grizzlies win over the Los Angeles Lakers at Staples Center on November 26, 2014 in Los Angeles, California. NOTE TO USER: User expressly acknowledges and agrees that, by downloading and or using this Photograph, user is consenting to the terms and condition of the Getty Images License Agreement. (Photo by Harry How/Getty Images)
After 16 seasons in the NBA, it appears Zach Randolph's career could be coming to a screeching halt. And it's not because of his inability to get up and down the floor. No, if Randolph's career is indeed over, it'll be because of his off-the-court troubles.
On Wednesday night, Randolph was arrested on suspicion of possession of marijuana with the intent to sell. Now, he's facing a possible ban from the NBA for violating the league's anti-drug policy.
In 2016, O.J. Mayo, Randolph's former teammate with the Memphis Grizzlies, was the last player to be suspended for violating the NBA's anti-drug policy and the first player since Chris "Birdman" Andersen in 2006.
Randolph spent his first six seasons in Portland before his career sputtered, as he had brief stints with the Los Angeles Clippers and New York Knicks. Upon arriving in Memphis in 2009, Randolph revived his career and spent the next eight seasons with the Grizzlies.
When Memphis chose to go in a new direction this past offseason, Randolph's agent, Raymond Brothers, helped his client land a two-year deal with the Sacramento Kings worth $24 million.
Brothers believes Randolph's situation will be resolved to allow the power forward to continue his NBA career.
?The charges are false and misleading. We?re looking at all options to resolve this matter," Brothers told the Associated Press.
As of Saturday, Randolph was still listed on the Kings' official roster. Without him, though, Sacramento's front court will consist of Willie Cauley-Stein, Kosta Koufos, Jack Cooley, Harry Giles, and Skal Labissiere.
Now, two years after Andersen was banned, the NBA reinstated him, thus allowing him to win two NBA titles with the Miami Heat.
However, at 36 years old, if Randolph is banned, it would be difficult to imagine him making an NBA roster if the league chooses to disqualify him.
(h/t The Commercial Appeal)