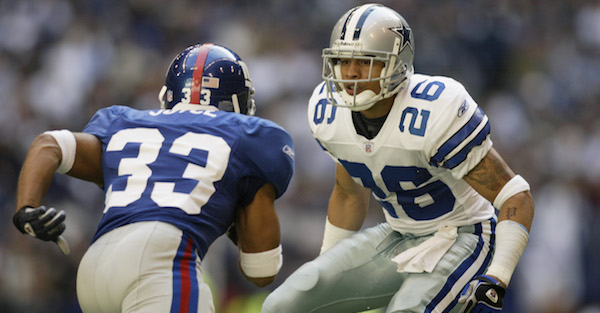 Ronald Martinez/Getty Images
IRVING, TEXAS - DECEMBER 21: Running back Delvin Joyce #33 of the New York Giants is covered by Andrew Davison #26 of the Dallas Cowboys during the game at Texas Stadium on December 21, 2003 in Irving, Texas. The Cowboys defeated the Giants 19-3. (Photo by Ronald Martinez/Getty Images)
Former Kansas football star Andrew Davison has passed away at the age of 37, per KansasCity.com.
Davison reportedly battled a heart condition over the past six years and passed away last week.
He was an undrafted free agent who played for the New York Jets (2002) and Dallas Cowboys (2003) over his two-year career.
During his college career, Davison had been shot in the arm during a drive-by shooting and was a success story after four of his best friends from high school had been murdered since he arrived at Kansas, per KansasCity.com.
Davison is hoping to raise money to bury him, and you can donate through GoFundMe.
He registered five tackles in 10 appearances during his NFL career.