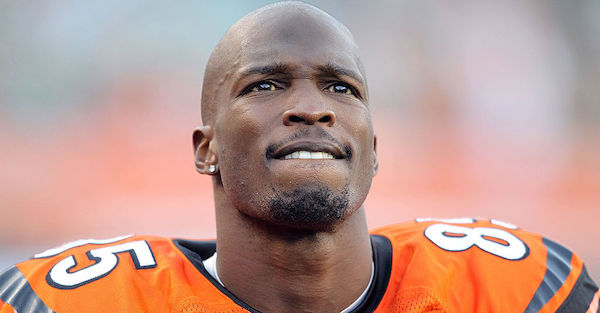 Andy Lyons/Getty Images
of the Buffalo Bills during NFL game against the Cincinnati Bengals at Paul Brown Stadium on November 21, 2010 in Cincinnati, Ohio.
Chad Ochocinco hasn't been in the NFL since 2012, but the 39-year-old former All-Pro wide receiver can still move.
Last week, Ochocinco challenged Pittsburgh Steelers WR Antonio Brown to a one-on-one duel.
Related: Teams calling the Steelers about Antonio Brown's availability have been met with one pointed answer 
Brown accepted the challenge, and the two exchanged a little trash talk on Twitter before meeting on the field.
The two finally met up for the battle, and they each posted videos on their respective Snapchats (NSFW).
Surprisingly enough, it looks like Ochocinco won the battle between the two All-Pro receivers. Ochocinco still has a great footwork—especially for someone who didn't play defensive back in the NFL.
Now, Ochocinco is calling out other receivers in the league. Next on his list? Odell Beckham Jr.
Beckham seems up for the challenge.
Beckham's not the only one who wants a chance to roast Ochocinco.
Can we make this a TV show? Ochocinco vs. All-Pro wide receivers? A long list have signed up to take him on one-on-one, and from the footage of his duel with Brown, it looks as if Ocho can hold his own.
(h/t Bleacher Report)