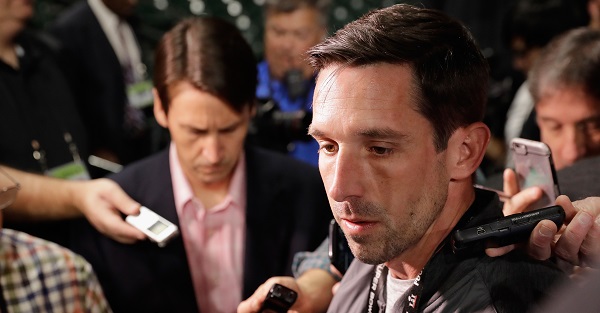 Tim Warner/Getty Images
HOUSTON, TX - JANUARY 30: Atlanta Falcons offensive coordinator Kyle Shanahan speaks with the media during Super Bowl 51 Opening Night at Minute Maid Park on January 30, 2017 in Houston, Texas. (Photo by Tim Warner/Getty Images)
The San Francisco 49ers need a quarterback and they know it. The John Lynch-Kyle Shanahan era is barely underway but that is at the forefront of everyone's mind with regard to the Niners and there is already widespread discussion that San Francisco could work out a trade with Washington to send Kirk Cousins to the west coast.
However, there is more than one option for the 49ers and Matt Barrows of the Sacramento Bee dug into the possibility that San Francisco, if they are unable to land Cousins, could go in the direction of Mike Glennon.
If the 49ers can?t land Cousins, they are expected to be among the teams interested in Tampa Bay free agent Mike Glennon, per multiple sources.
It has been more than two years since Glennon last started an NFL game and, to be honest, this seems a bit odd considering Tampa Bay willingly moved on from him as their starter in favor of Jameis Winston. Still, it would not be the first time that an anonymous quarterback jumped to the forefront based on tools, measurables and reputation rather than play on the field.
In fact, it appears possible that Glennon could command a monster salary on the open market.
Glennon could be a competent NFL starter and he wasn't dreadful in racking up 30 touchdowns with only 15 interceptions across four years in Tampa Bay. In the same breath, it seems like a stretch to think that he could lead a team to the promised land and the Niners could have a very interesting decision to make if the Cousins domino doesn't fall in the near future.