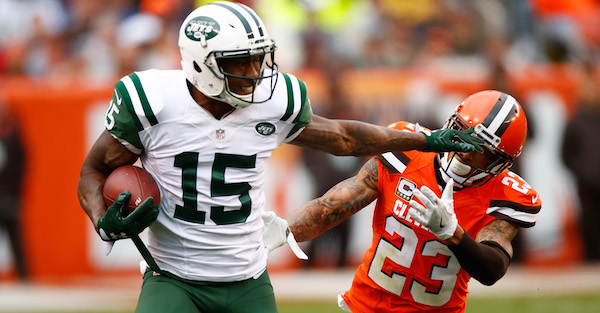 Gregory Shamus/Getty Images
CLEVELAND, OH - OCTOBER 30: Brandon Marshall #15 of the New York Jets tries to escape the tackle of Joe Haden #23 of the Cleveland Browns at FirstEnergy Stadium on October 30, 2016 in Cleveland, Ohio. (Photo by Gregory Shamus/Getty Images)
One of the top wide receivers over the last decade, Brandon Marshall is officially off the market, and he'll remain in the Big Apple, landing with the New York Giants after he was waived by the New York Jets:
Marshall has never been to the playoffs, and he'll hope to land there for the first time in his career with the up-and-coming Giants.
Across the field from Odell Beckham Jr., the Giants now have one of the most feared duos of wideouts in the NFL.
Marshall has registered more than 12,000 yards receiving over his career and 82 touchdowns. He was a fourth-round pick in the 2006 NFL Draft by the Denver Broncos. Over his career, he's played for the Broncos, Chicago Bears, Miami Dolphins and Jets.