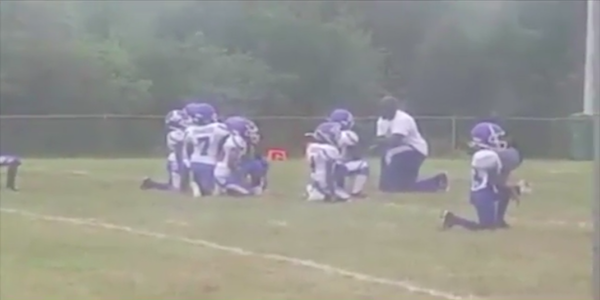 http://fox2now.com
http://fox2now.com
Love or hate Colin Kaepernick, there's no denying his stance against the National Anthem and the reason he stood (or kneeled, more specifically) against it for has taken hold of the United States.
Not only is it one of the most talked about social movements of the past few years (good or bad), but his stance has made an impact far beyond the NFL sideline.
In fact, in some cases, it's made an impact on youth football sidelines as well.
That was the case in Belleville, Illinois, recently when a pee-wee football team decided to collectively kneel during the National Anthem. This was a gesture approved by both the coach and the parents of the players, and it was in response to the protests in nearby St. Louis. Here's how head coach Orlando Gooden of the Cahokia Quarterback Club football team explained it, per Fox 2 in St. Louis.
"One of the kids asked me if I saw (people) protesting and rioting in St. Louis. I said yes; I said, ?Do you know why they are doing it?'? said Coach Orlando Gooden.

Coach Gooden said his player responded, "Because black people are getting killed and nobody's going to jail.?

Gooden, who played football at Mizzou, said the kids knew about the Jason Stockley decision.

?I felt like it was a good teaching moment for me to circle the team and have a meeting,? he said."
National anthem protests have been making national headlines since Kaepernick started doing it in NFL games, and the Cahokia Quarterback Club's stance was no different.
Recently speaking on Fox and Friends on the Fox News network, former MTV Real World star and influential Latino Republican, Rachel Campos-Duffy, took exception with the young player's and their protests.
Here's what she said, per MediaMatters.org (h/t UPROXX):
"Well, no wonder Dreamers think they can shout down a duly elected representative of the American people when our own American citizens are showing such disregard for the United States, the flag, and really the blood that has been spilled on behalf of all of us for our freedoms. I'm the daughter of a veteran and this is deeply offensive. Nonetheless, they absolutely do have the right to do this, but we have the right to get on TV and say this is shameful."
Campos-Duffy went on to blame the parents of the players:
"These kids clearly — I'm a parent, you guys are all parents, these 8-year-olds don't know what they're doing. They're following the lead of their parents, and this is a very political statement that they have no idea what they're doing."
She also said she would pull her own kid out of this league in a heartbeat:
"Are you kidding me? I would pull my kid out of that football league in about 2.5 seconds. I would never, ever allow my kids to disrespect — every day I tell my kids, "you are so lucky to live in this country." It is a blessing, and it goes right back to what we're talking about with the Dreamers. This is a gift to be born here. This is a gift that the American people are poised to give them."
National Anthem protests are certainly a hot-button topic and it should be said that there is validity on both sides of the argument. Speaking of validity, Campos-Duffy and her point about the kids perhaps not knowing exactly what they got themselves into is valid as well. This is a touchy subject and there's plenty to get riled up about on both sides of the argument.
That said, being as close to St. Louis as these kids are they've obviously felt the impact of Kaepernick's argument hit home. As Campos-Duffy pointed out, they do have the freedom to express their discontentment with the system and yes, adults like her and Fox and Friends do have the freedom to "call them out" and discuss them on national television as well.
But the question that hasn't been answered in this whole argument is this: just because you have the freedom to do it, does it mean you should?