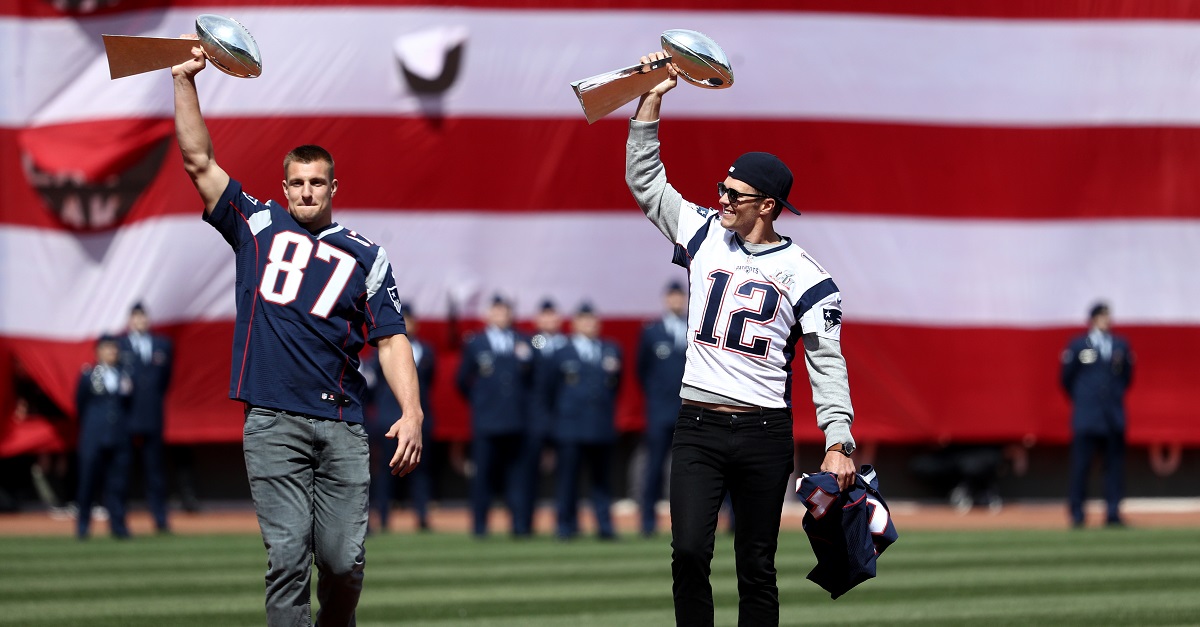 Maddie Meyer/Getty Images
BOSTON, MA - APRIL 3: Rob Gronkowski #87 and Tom Brady #12 of the New England Patriots enter the field carrying Vince Lombardi trophies before the opening day game between the Boston Red Sox and the Pittsburgh Pirates at Fenway Park on April 3, 2017 in Boston, Massachusetts. (Photo by Maddie Meyer/Getty Images)
When Tom Brady's missing Super Bowl jersey showed up, most of the credit was given to the FBI and other agencies that had been in on the search. However, it seems that a tip from the most unlikely source actually led to the discovery of the jersey and its safe return to the Super Bowl LI MVP.
RELATED: Report: Tom Brady jersey thief may have stolen from Broncos as well
Cheryl Fiandaca of WBZ-TV explains that the case actually turned when 19-year old sports memorabilia collector Dylan Wagner tipped off the FBI. In December, Wagner sold a jersey to Martin Mauricio Ortega via eBay. They later shared photos of their collections. Ortega's had Brady's Super Bowl XLIX jersey — the other jersey that was found with the one from SB LI — complete with grass stains.
Wagner immediately informed a special agent from the Bureau of Alcohol, Tobacco, Firearms and Explosives that it was Ortega who stole the first jersey, but nothing happened. Once the second one went missing, Wagner actually heard from his ATF agent friend who then apprised the FBI of what was going on. And the rest is history as they say as Brady was reunited with his jersey and all Patriots fans breathed a sigh of relief as they were made whole again.
[h/t Pro Football Talk]