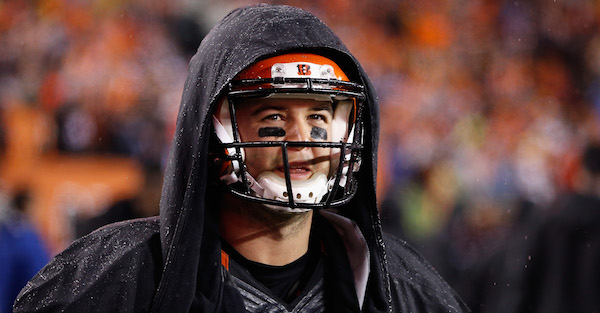 Joe Robbins/Getty Images
CINCINNATI, OH - JANUARY 09: AJ McCarron #5 of the Cincinnati Bengals reacts on the sideline in the fourth quarter against the Pittsburgh Steelers during the AFC Wild Card Playoff game at Paul Brown Stadium on January 9, 2016 in Cincinnati, Ohio. (Photo by Joe Robbins/Getty Images)
Cincinnati Bengals backup quarterback A.J. McCarron is apparently drawing some interest from the Denver Broncos, per Vic Lombardi, who was on PFT Live Wednesday morning.
The Bengals could be listing McCarron as an unrestricted free agent this offseason. Then again, he could also be used as trade bait.
Here is where things get tricky with McCarron's restricted or not restricted free agency. According to the NFL, since McCarron was on the non-football injury list during his rookie season, he won't be eligible to be an unrestricted free agent. Thing is, McCarron argues he should have never been put on the list and the Bengals basically did him dirty.
McCarron has barely played in the National Football League, but has been a lot of people's favorite potential future starter. The Cleveland Browns attempted to snag him during last season, but the inept franchise didn't exactly know how to legally submit trade requests into the NFL.
As for the Broncos, Denver has been without a good quarterback for some time now. While still having a tremendous defense as its core, with talented skill position players on offense, Denver could make a huge jump in the standings next season with an even if only competent gunslinger.