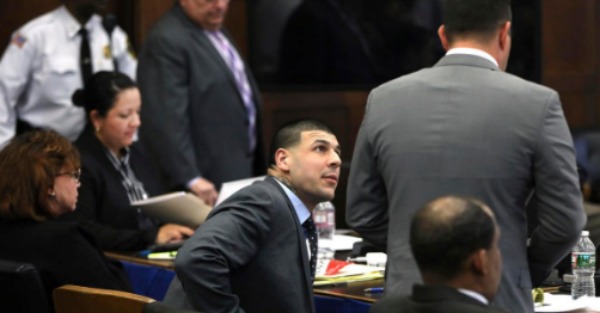 Boston Herald via Twitter
Is it any surprise that Aaron Hernandez was a liar, too?
Hernandez was a member of the Blood Street gang while serving time for murder, according to court documents related to his suicide investigation.
Not only was he a member, but he was disciplined for having gang paraphernalia, according to the report, which was obtained by the Associated Press.
The report lists the Bloods under Hernandez's gang profile and was disciplined for having the "STG" — Security Threat Group — items.
Hernandez has long been tied to the Bloods. As a teenager, he posed in a photo and appeared to flash signs of the Bristol Bloods street gang:
While in trial in the Odin Lloyd killing, he also showed up in court with a new tattoo that may have been gang related.
Still, Hernandez insisted to investigators that he had no gang ties at all.
Hernandez killed himself a few days after he was found not guilty in a double murder. He was still serving a life sentence for killing his friend, Lloyd.
MORE ON AARON HERNANDEZ
More bloody details released in Aaron Hernandez?s death
A piece of history from the Aaron Hernandez double murder trial could be for sale
The rise and fall of Aaron Hernandez: ?Misery attracts misery.?
A new development adds more mystery to Aaron Hernandez?s death
Jury forewoman in the Aaron Hernandez trial makes an explosive statement