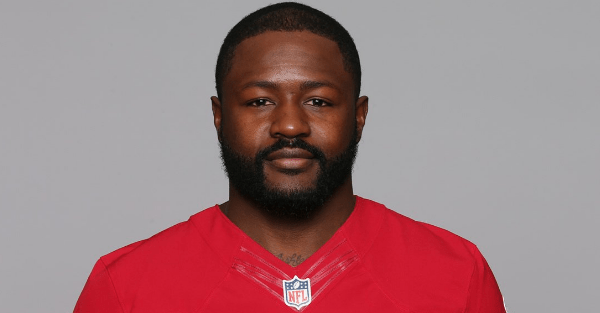 ABC News via Twitter
Tramaine Brock, whose football rags-to-riches story saw him go from an undrafted free agent to signing a multi-million contract, has been charged in a domestic violence incident, according to a press release from the Santa Clara District Attorney's office.
Brock was scheduled to be arraigned today on charges of felony domestic violence and misdemeanor child endangerment, the release said. If convicted, he faces up to five years in prison.
RELATED: A team acts very fast after one of its players is arrested
The district attorney's office, in the press release, gave the following account. On April 6, Brock and a 31-year-old woman argued over what to watch on TV, and Brock allegedly punched her in the face and then strangled her so hard she vomited. The alleged victim reported it was the second time Brock had tried to strangle her, according to the DA's press release. On one occasion, the district attorney claims that Brock tried to strangle the victim while she was holding a 1-year-old child.
After a up-and-down college career that saw him finish his senior season at NAIA Belhaven University, Brock signed a contract as an undrafted free agent with the San Francisco 49ers in 2010. He played so well the Niners rewarded him i 2013 with a four-year, $16 million contract extension, of which $7 million was guaranteed. But the 49ers released him in April, after his arrest for domestic violence, the same case in which he's now been charged.