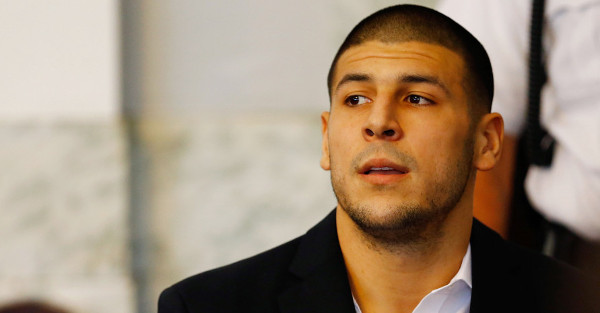 Jared Wickerham/Getty Images
NORTH ATTLEBORO, MA - AUGUST 22: Aaron Hernandez sits in the courtroom of the Attleboro District Court during his hearing on August 22, 2013 in North Attleboro, Massachusetts. Former New England Patriot Aaron Hernandez has been indicted on a first-degree murder charge for the death of Odin Lloyd. (Photo by Jared Wickerham/Getty Images)
Before committing suicide, former Florida and New England Patriots tight end Aaron Hernandez was acquitted after being charged with a double murder in Boston in 2012.
Hernandez was accused of shooting two victims from his silver 2006 Toyota 4Runner. That vehicle could soon be up for sale on eBay.
Related: More bloody details emerge in the Aaron Hernandez suicide
A recent article in The New York Times details the what happened to the vehicle after Hernandez was arrested for the murder of Odin Lloyd in 2013. The vehicle was found at Hernandez's uncle's house in 2013, and then it was impounded.
After Hernandez was acquitted earlier in April, the car was then sent to a dealership in Westford, Massachusetts. Rhode Island car salesman Jack Fox initially sold the car to Hernandez in exchange for several promotional appearances at his dealership. After the acquittal, the car went to Buddy Clair, who is a friend of Fox's. Clair said he plans to sell the car and split the proceeds with Fox.
The 4Runner has just over 53,000 miles on it, and it is seemingly in pretty good shape. So, if you're looking for a car and you don't mind it having a little baggage attached to it, be on the lookout for a silver 2006 4Runner on eBay in the near future.
(h/t NESN)