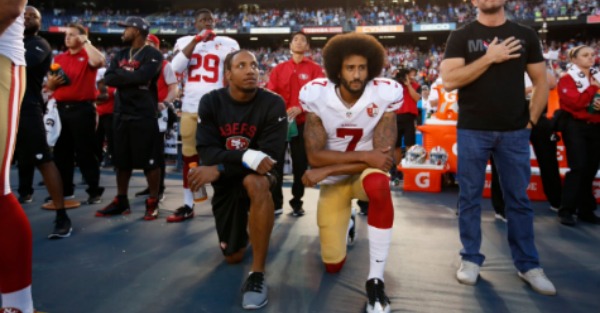 Thearon W. Henderson/Getty Images
Tony La Russa has come up with maybe the most damning take on why Colin Kaepernick continues to protest the national anthem—to keep his name in the headlines.
In a recent Sports Illustrated interview, the legendary former baseball manager and Arizona Diamondbacks chief baseball officer suggested that Kaepernick's stance, which Kaepernick says is to call attention to the police brutality and racial injustice suffered by the country's people of color, is insincere and a means of keeping his name relevant.
I know that there's a constitutional right to express yourself, but I think you have a right as an organization to have a certain philosophy about respecting, whether it's our Constitution, whether it's our country, whether it's our soldiers…our flag. I would not, to the best of my ability, I would not sanction somebody taking a knee. I think that's disrespectful, and I really question the sincerity of somebody like Kaepernick. I remember when he was on top. I never heard him talk about anything but himself. Now all of a sudden he's struggling for attention and he makes this big pitch. I don't buy it. And even if he was sincere, there are other ways to show your concern. Disrespecting our flag is not the way to do it.
RELATED: Colin Kaepernick fires back at Trent Dilfer
La Russa's comments come on the heels of equally critical remarks from ESPN analyst Trent Dilfer, in which he accused Kaepernick of negatively impacting San Francisco 49ers team morale.
?No matter how passionate you are, no matter how much of a burden you have (sic) for a social issue, you don?t let it get in the way of the team,? Dilfer said. ?The big thing that hit me through all of this is that this is a backup quarterback, whose job is to be quiet, and sit in the shadows, and get the starter ready to play week 1.?
Kaepernick responded in kind by calling Dilfer's critique "one of the most ridiculous comments I've heard." Meanwhile, Kaepernick's protest continues gaining momentum, with more and more NFL players, and other professional and amateur athletes alike, practicing their own protests of the national anthem.