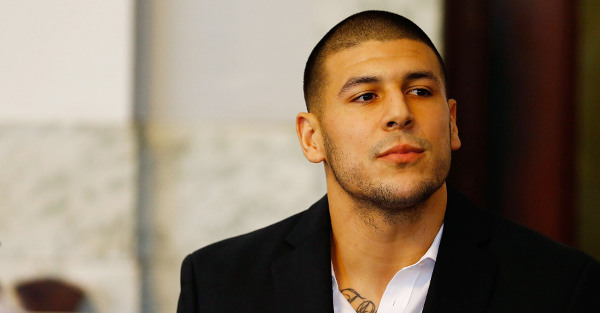 Jared Wickerham/Getty Images
NORTH ATTLEBORO, MA - AUGUST 22: Aaron Hernandez sits in the courtroom of the Attleboro District Court during his hearing on August 22, 2013 in North Attleboro, Massachusetts. Former New England Patriot Aaron Hernandez has been indicted on a first-degree murder charge for the death of Odin Lloyd. (Photo by Jared Wickerham/Getty Images)
Aaron Hernandez's former $1.3 million home was originally set to be sold this year, but the Boston Herald is reporting the deal has fallen through. Attorney George Leontire says that a deal for the North Attleboro home ?fell through, so we?re back to trying to sell the home." Hernandez's estate has been boosted by $217,000 found in retirement funds.
The Sun Chronicle reports taxes on the property haven't been paid since 2014, when Hernandez was sitting in jail after being convicted of murder. With a lien on the property, it can't be sold until someone pays the back taxes.
RELATED: Effort to sell Aaron Hernandez's lavish estate has just hit a major roadblock
According to USAToday, a probate court gave Hernandez's fiancé, Shayanna Jenkins Hernandez, permission to sell the estate, and NESN reported she had an offer for an undisclosed sum. The home had been on the market for $1.29 million.
The 7,100-square foot house has been subject to a court-ordered attachment by the estate of Odin L. Lloyd since 2013. Lloyd is the man that Hernandez was found guilty of killing and was serving a life sentence for before his jailhouse suicide.
Hernandez, the former pro and college star, killed himself in prison after being found innocent in a double murder trial. As a result of his death, a Massachusetts court vacated his murder conviction because he can no longer participate in his appeal.