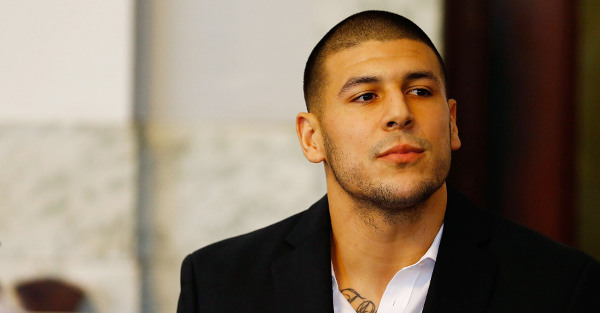 Jared Wickerham/Getty Images
NORTH ATTLEBORO, MA - AUGUST 22: Aaron Hernandez sits in the courtroom of the Attleboro District Court during his hearing on August 22, 2013 in North Attleboro, Massachusetts. Former New England Patriot Aaron Hernandez has been indicted on a first-degree murder charge for the death of Odin Lloyd. (Photo by Jared Wickerham/Getty Images)
Former New England Patriots tight end Aaron Hernandez is already serving a life sentence for the murder of Odin Lloyd, and his next murder trial is already off to a bad start.
Related: Member of the Patriots reportedly could be called as a witness in Aaron Hernandez double-murder trial 
Hernandez is slated for another trial on March 1 for the double murder of Daniel Jorge Correia de Abreu and Safiro Teixeira Furtado in Boston, and he is reportedly having difficult finding witnesses to testify on his behalf.
Attorney Jose Baez said the defense hasn't received the full list of witnesses from the prosecution, and they're "freaked out" that the witness list includes over 200 people. Baez voiced his complaints to Suffolk Superior Court Judge Jeffrey A. Locke, and he is concerned that Assistant Suffolk District Attorneys Patrick Haggan and Mark Lee are being overly cautious.
"I just can't try this case on a handshake," Baez said, according to the Boston Herald's Laurel J. Sweet. "I have to insist that we have an exact, correct list of witnesses. I don't think (Haggan is) trying to hide the ball. I think he's being cautious. But it's fish or cut bait: Who's coming and who isn't? We have to narrow this down. If not now, when?"
"It's very difficult to get experts in this kind of case. We've been trying to get them to sign on the dotted line, but they're a little bit apprehensive."
Hernandez is accused of killing both de Abreu and Furtado after they apparently spilled a drink on Hernandez at the Cure Lounge in Boston.
(h/t NESN)