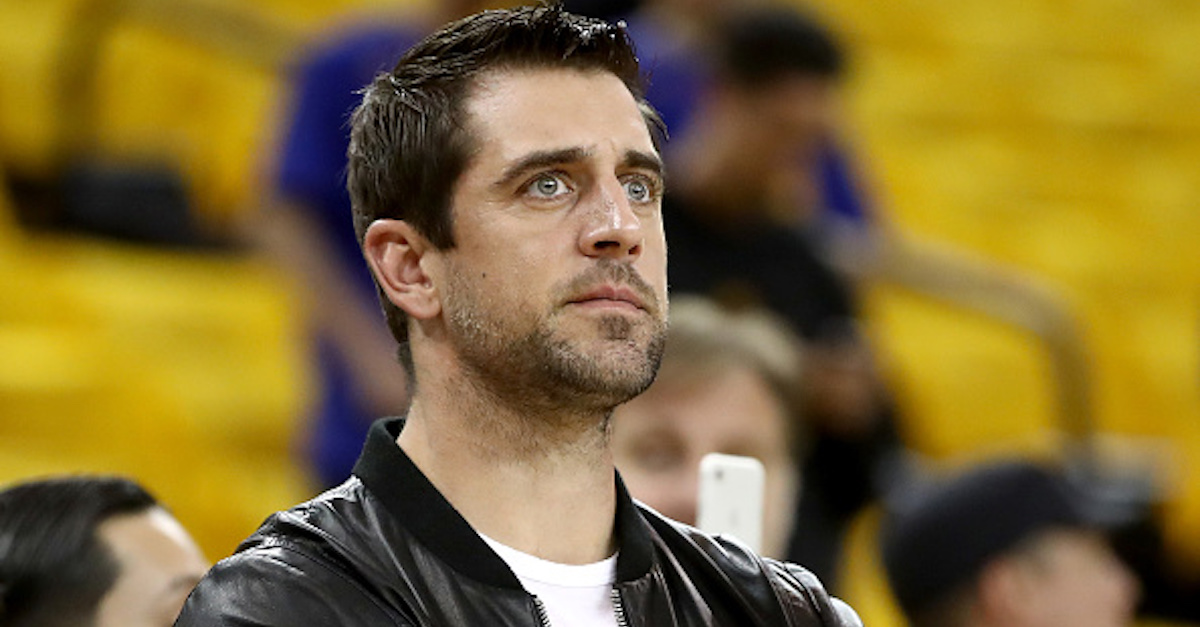 Ezra Shaw/Getty Images
OAKLAND, CA - JUNE 12: Quarterback Aaron Rodgers of the Green Bay Packers watches warm-ups before the Golden State Warriors take on the Cleveland Cavaliers in Game 5 of the 2017 NBA Finals at ORACLE Arena on June 12, 2017 in Oakland, California. NOTE TO USER: User expressly acknowledges and agrees that, by downloading and or using this photograph, User is consenting to the terms and conditions of the Getty Images License Agreement. (Photo by Ezra Shaw/Getty Images)
It's starting to seem less and less likely that Aaron Rodgers will be able to make a comeback this season for Green Bay, and that's terrible news for Packers fans as well as fans of quality NFL football.
The star quarterback recently took a minute to unwind and play video games with Conan O'Brien — one of the television host's best and most genuine segments with stars — and in the process of explaining to O'Brien what happened, Rodgers revealed that he had to get 13 screws inserted into his clavicle.
According to reports, a long metal plate was part of the process as well.
That's a huge amount of screws in a small area of the body, so naturally, Jason Wilde of ESPN reached out to Rogers to get the truth. The quarterback was a bit more cryptic with the sports reporter — he didn't confirm a number of screws — but he seemed to give an indication that he may have been telling the truth.
"It's TV. Sometimes you exaggerate. And then sometimes, you tell the truth."
If Rodgers was telling O'Brien the truth about the screws and the plate undoubtedly associated with them, that's terrible news for the Packers. Sure, in the long-term getting the surgery and required hardware is what's in Rodgers' best interest and it may bring him back stronger and better than before, but in the short term, this is terrible news for Green Bay.
According to former NFL head team doctor David Chao, the screws and plate would actually mean a longer recovery than what was initially expected:
There was at the very least some hope that Rodgers could make a comeback in time for a playoff run, that is of course assuming that Brett Hundley can keep the Packers in the playoff hunt — which as we've seen is no guarantee.
From bad news to worse news to terrible news for Green Bay.