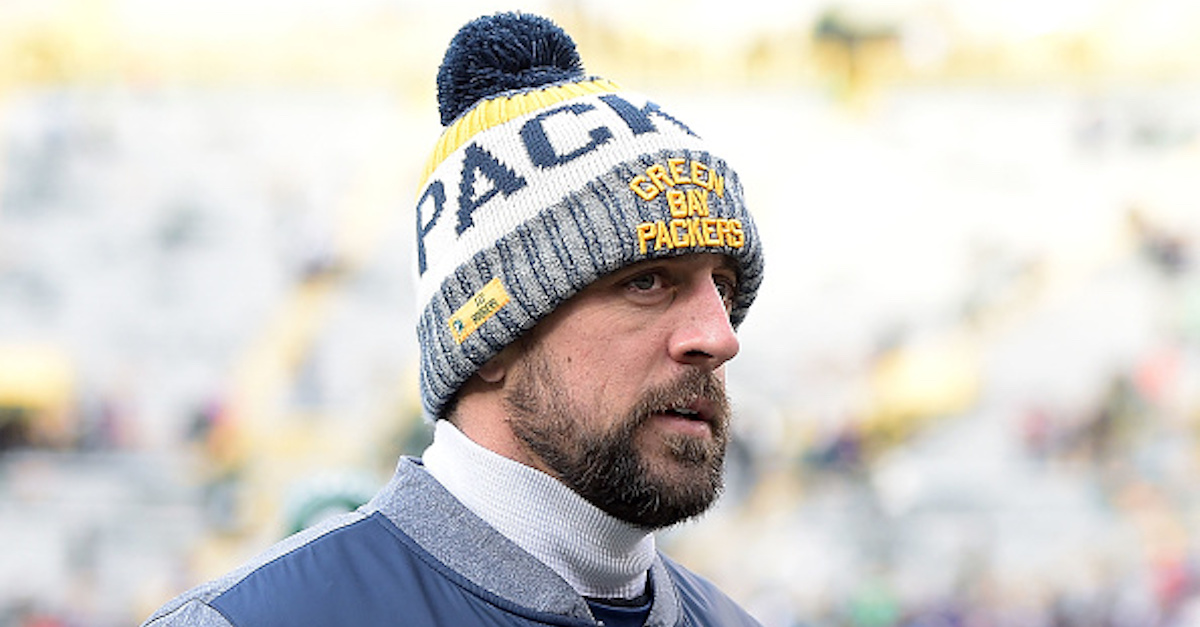 Stacy Revere/Getty Images
GREEN BAY, WI - NOVEMBER 19: Aaron Rodgers #12 of the Green Bay Packers leaves the field following a game against the Baltimore Ravens at Lambeau Field on November 19, 2017 in Green Bay, Wisconsin. (Photo by Stacy Revere/Getty Images)
The Green Bay Packers are a shell of themselves with Aaron Rodgers injured and on the sideline, but there is a glimmer of hope for the Pack in the fact that Rodgers could return before the regular season ends from his broken collarbone.
That hope has been there all along, but Rodgers-mania will be going strong with the recent report that Rodgers has actually returned to practice.
Here's Jeremy Bergman of NFL.com:
"Rodgers practiced on Saturday for the first time since suffering the injury and has been designated to return off of IR, NFL Network Insider Ian Rapoport reported Saturday, per a source.

When asked whether Rodgers' return can inspire the playoff-hungry Packers, coach Mike McCarthy said Friday, "Absolutely. I think it's a big deal when you see your leader out there. Definitely. The guys have been able to watch him work here the last couple weeks. He's been going through the fundamental part of it. But I think you also have to be in-tune with the trial of return mode. … But yeah, that'd be great to have him out there."
Unfortunately for the Packers, even if Rodgers was somehow ready to go right now, he'd have to sit out until their Week 15 game at Carolina due to the rules of the injured reserve. With that said, the fact that this is even a possibility is huge for Green Bay, especially considering some of the original thoughts regarding Rodgers' return.
He's obviously healed quickly and seems to be ahead of schedule. The question now is whether or not Green Bay will want to risk further injury this season — and potentially long-term ramifications — and that all has to do with the Packers' playoff hopes, which at the moment don't look great.
Green Bay is 5-6 and a few games back of the Minnesota Vikings in the NFC North. The Packers' best shot will be the Wild Card and the 6th seed in the NFL, and to get that they'll have to win out the rest of their games.
Even if they do that, which is easier said than done with Bret Hundley leading the way for at least the next two games, they'll need help.
Would it be worth bringing Rodgers back just for a shot at the sixth seed? Conventional wisdom would say no, but crazier things have happened in the NFL.