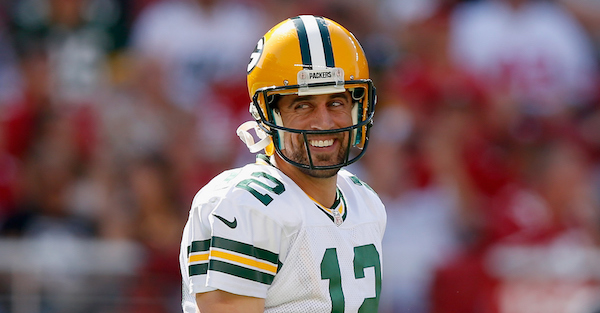 Ezra Shaw/Getty Images
SANTA CLARA, CA - OCTOBER 04: Aaron Rodgers #12 of the Green Bay Packers smiles during their game against the San Francisco 49ers at Levi's Stadium on October 4, 2015 in Santa Clara, California. (Photo by Ezra Shaw/Getty Images)
With all the craziness going on in the NFL, the Atlanta Falcons getting busted for pumping artificial crowd noise into their stadium last season is pretty forgettable by comparison.
Ask almost any football fan and it's a good bet that it's slipped half their minds already. But Aaron Rodgers sure hasn't forgotten. Ahead of their NFC Championship showdown Sunday, Rogers poked fun at the whole thing.
RELATED: NFL writer in hot water after sick comparison of Trump inauguration
As little play as it may have gotten in the media compared to Deflategate, Bountygate and probably every other gate, the transgression ended up costing the Falcons a good bit.
They were not only fined $350,000 but were also made to concede a fifth-round draft pick in the 2016 NFL Draft. On the flipside, though, it might be worth recreating those ear-shattering decibel levels Sunday if it means a trip to the Super Bowl.