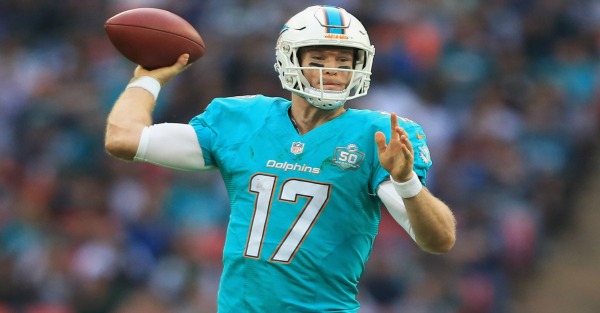 Miami Dolphins/New York Jets during the game at Wembley Stadium on October 4, 2015 in London, England.
The Miami Dolphins have had a rough start to the 2015 season, as they're now 1-3 and they have fired their head coach. According to a report by the National Football Post, things are even worse on the inside thanks to quarterback Ryan Tannehill.
First of all, the quarterback apparently gets pretty rattled in practice sessions, so it's no wonder that the Dolphins aren't exactly prepared for game day.
Second of all, Tannehill disrespects his own teammates, calling out degrading comments and telling them to "enjoy [their] practice squad paycheck" when practice squad players force turnovers.
To top it all off, Coach Joe Philbin defends Tannehill despite his bad attitude, telling the practice squad players to take it easy on the quarterback so as not to hurt his confidence.
This is pretty messed up and Dolphins fans should be worried if they aren't already. However, a new coach with a new perspective might be able to turn things around in time.