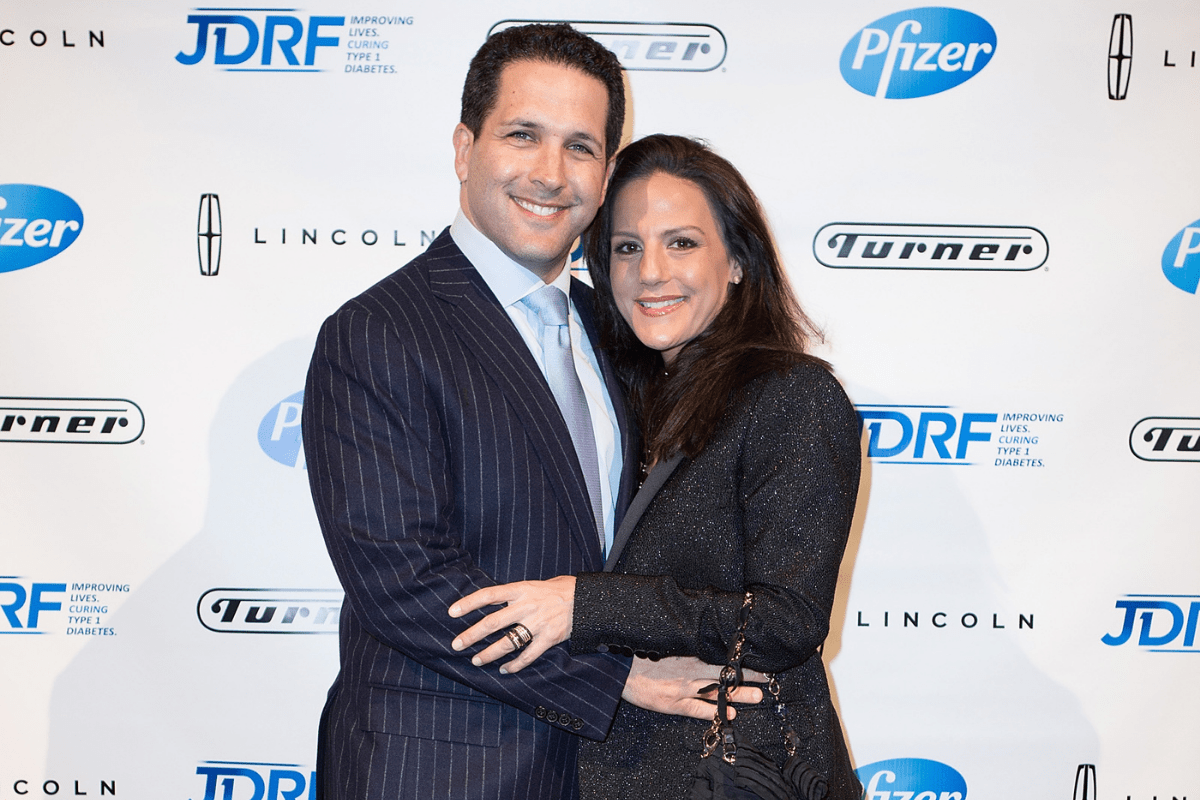 Photo by Ryan Liu/WireImage
American sportswriter and football analyst Adam Schefter has had his hands in everything during his career, from the NBA to "The Longest Yard." NFL fans, however, know him as the league's leading reporter and one of the faces of ESPN.
The sideline reporter, television analyst and former "Around the Horn" fill-in took a turn from sports media in 2018 when he wrote a memoir that wasn't about himself or sports. "The Man I Never Met" is the story of Adam Schefter's wife's first husband, Joe Maio, and his tragic passing on 9/11.
Who is Adam Schefter's wife, how did they meet and what is her story?
Adam Schefter's Wife Sharri Maio
Sharri Maio Schefter is the wife of ESPN's Adam Schefter and the widow of Joe Maio, a victim of the 9/11 terrorist attacks that shook the world.
Joseph Daniel Maio was Sharri Maio's first husband and the father of her child, Devon Maio. On September 11, 2001, when Devon was 15 months old, Sharri dropped Joe off at the ferry to Manhattan, where he worked for financial giant Cantor Fitzgerald on one of the top floors of the World Trade Center's north tower. It was the last time either Sharri would ever see Joe. He tragically passed later that morning in the terrorist attacks.
The loss of Joe was incredibly traumatic for his young family. Sharri developed anxiety, type-1 diabetes and a distrust of travel. Understandably, it took time for Sharri to date again. But approximately five years after Joe's passing, Sharri took a leap of faith, agreeing to a blind date that would change her life forever.
How Did They Meet?
RELATED: Stephen A. Smith Was Engaged Once, But Won't Tell Anyone What Happened
In 2006, Sharri Maio agreed to a double-blind date with Adam Schefter, but one several conditions. Maio had learned to be upfront with love interests about her husband and her son. Schefter agreed to meet with Maio unconditionally.
Adam claims it was love at first sight. Eleven months later, the couple walked down the aisle, and Sharri Maio became Sharri Maio Schefter. Sharri and Joe's son Devon was in attendance, only 7 years old at the time and even gave a speech at the reception.
Despite Adam's busy work schedule, the Schefters got right to growing their young family. In 2009, the couple had their first child, and Devon Maio met his little sister.
Adam Schefter's Children
In interviews, Schefter says he considers Devon his own son, and that's exactly how he treats him. In return, Devon honored his step-father Adam by choosing to attend the University of Michigan, Schefter's alma mater.
Sharri and Adam welcomed their daughter Dylan Schefter to the world in 2009. Dylan is 12 years old in 2021, and all that is known about her is that she may one day be an even more successful broadcaster than her father. She's even worked for Fox Sports all ready.
That would be quite the feat. Dylan's father is, after all, one of the most accomplished broadcasters in American sports history.
Adam Schefter's Career
Adam Schefter is a sports journalist and NFL insider working for ESPN and NFL Network. He was born in Valley Stream, New York, and attended John F. Kennedy High School. Schefter is Jewish. He earned his undergraduate degree from the University of Michigan and completed his graduate studies at Northwestern University's Medill School of Journalism. Schefter began his sportswriter career at The Michigan Daily before moving to Colorado to work for The Denver Post and Rocky Mountain News.
Schefter joined the NFL Network in 2003 and soon established a reputation as one of the most trustworthy NFL insiders. In 2010, Sports Illustrated ranked Schefter in the top 40 most influential NFL writers. Schefter is a social media giant with over 8.6 million followers on Twitter and the popular Adam Schefter Podcast Show on ESPN Radio.
Schefter's book about Sharri's first husband, Joe Maio, titled "The Man I Never Met," is available on Amazon.
Related Videos