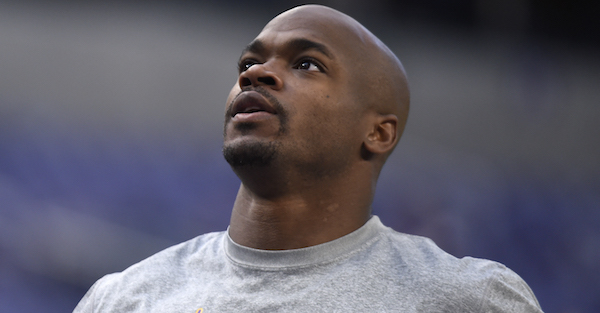 Hannah Foslien/Getty Images
MINNEAPOLIS, MN - DECEMBER 18: Adrian Peterson #28 of the Minnesota Vikings warms up before the game against the Indianapolis Colts on December 18, 2016 at US Bank Stadium in Minneapolis, Minnesota. Peterson returns to play after injuring his knee in week two of the season. (Photo by Hannah Foslien/Getty Images)
Adrian Peterson will be 33 years old when the 2018 NFL season begins and, if he follows anything approaching a "normal" aging curve for the running back position, that likely means that his days in the league are numbered. Still, Peterson was reasonably productive in a short stint with the Arizona Cardinals during the 2017 campaign and he is technically under contract for 2018 with the club.
However, Mike Jurecki of 98.7 FM in Arizona reported on Wednesday that the Cardinals are "expected to move on" from Peterson and that comes as a result of a $3.5 million salary cap figure. Of course, it should be noted that Arizona's investment to acquire Peterson (a 2018 sixth round draft pick) was relatively limited and, more importantly, the Cardinals are expected to welcome back one of the best players at the position in David Johnson, who missed most of the 2017 season with injury.
Beyond that, Peterson's per-carry numbers (3.5 in a Cardinals uniform) have dipped considerably in recent days and he simply does not appear to be the same impact runner that he was during his prime years. There is, of course, no shame in that and Peterson is likely effective enough to maintain a quality role on a team in the league. Whether he is interested in that kind of shared future, though, remains to be seen.