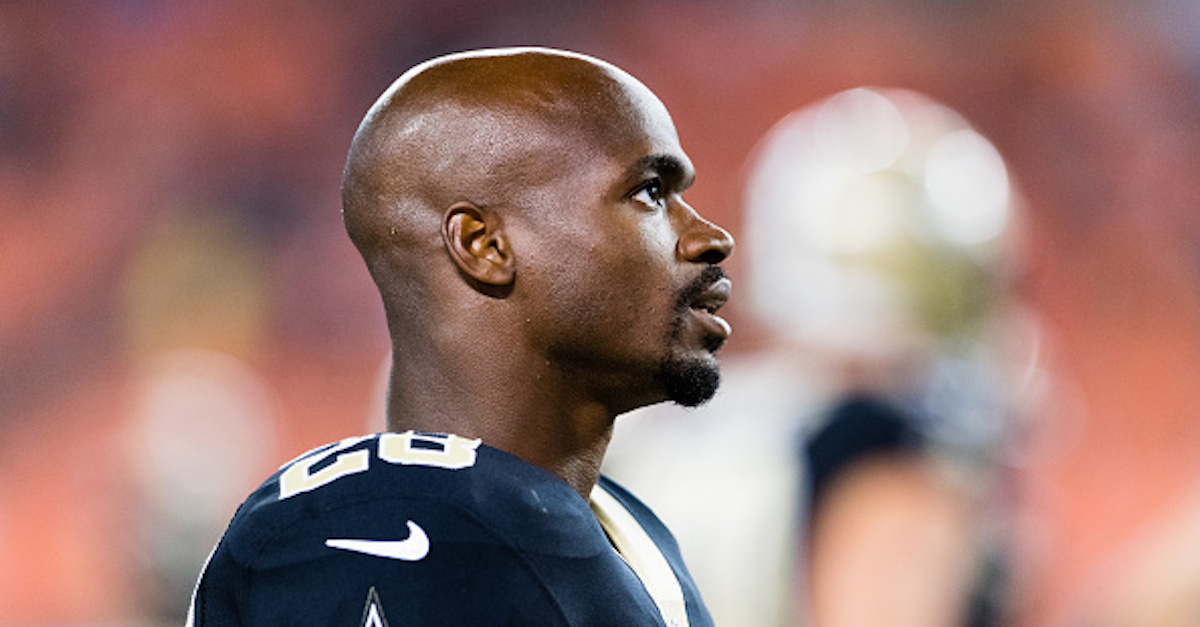 Photo by Jason Miller/Getty Images
CLEVELAND, OH - AUGUST 10: Running back Adrian Peterson #28 of the New Orleans Saints watches from the sidelines during the second half of a preseason game against the Cleveland Browns at FirstEnergy Stadium on August 10, 2017 in Cleveland, Ohio. The Browns defeated the Saints 20-14. (Photo by Jason Miller/Getty Images)
Adrian Peterson may have felt a bit frustrated watching his old team, the Minnesota Vikings, shut down his new team's run game. In fact, that's the reason many people felt Peterson got into it on the sideline with New Orleans Saints head coach Sean Payton.
The two were caught by the television cameras having a somewhat tense moment. Peterson was yelling something at Payton as he walked away, but when the head coach turned around, a quite intense stare down was had. You can watch the moment below:
Peterson later cleared the moment up, and he made it seem as if it was actually not a big deal. In fact, he relayed to Mike Triplett of ESPN that they were discussing play-calling strategy:
"One thing I said to him was, 'Hey, let's run this inside zone.' And we came out and we ran that," said Peterson, who joked that he might have been yelling, "I love you!"
The star running back also took to Twitter to clear up the matter. He admitted that he can be passionate at times, but he would never disrespect his head coach.
Minnesota ended up beating the Saints 29-19. New Orleans could only accumulate 60 yards total on the ground, with Peterson rushing six times for only 18 of those yards.
Perhaps it was just one of those days for Peterson and the Saints. He says it wasn't a big deal, but man oh man does that epic stare down tell a different story.