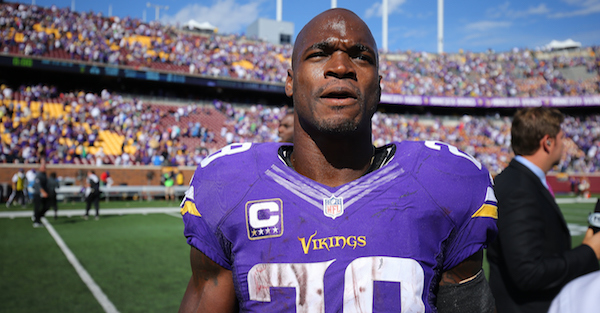 Adam Bettcher/Getty Images
MINNEAPOLIS, MN - SEPTEMBER 20: Adrian Peterson #28 of the Minnesota Vikings looks for players to greet after the game against the Detroit Lions at TCF Bank Stadium on September 20, 2015 in Minneapolis, Minnesota. (Photo by Adam Bettcher/Getty Images)
Adrian Peterson has a long list of suitors, but according to the Boston Herald, sources close to the former MVP have said Peterson would possibly take a team-friendly contract to play for a Super Bowl contender.
Related: Paired with an elite offensive line, one team has "caught the attention" of Adrian Peterson 
Teams such as the Oakland Raiders, New York Giants and Green Bay Packers are all candidates for Peterson, and the defending Super Bowl champion New England Patriots are also on the radar for Peterson.
Patriots running back LeGarrette Blount is a free agent, so the franchise has a need for a power running back. Karen Guregian of the Boston Herald said the Patriots could be a match for Peterson if he's willing to play for less money.
"A source close to Peterson told the Herald that since AP has already earned a ton — more than $97 million is his career — it's certainly something he'd consider," Guregian wrote. "Peterson knows how it worked out for Darrelle Revis and Chris Long. But naturally, there will be a lot of teams in the mix, including the Vikings. And, of course, the Pats would have to want to bring in an aging back with an injury history, not to mention baggage.

"Historically, the Patriots haven't paid running backs more than $2 million a year. If the Pats were truly interested, they might come off that number, but Peterson would have to be willing to leave a lot on the table considering likely offers elsewhere."
Guregian also mentioned the Patriots could be interested in receiver Brandon Marshall if he wanted to play for a discounted price.
The Pats typically don't pay big money for running backs—especially one like Peterson who will be 32 and has an injury history—but the possibility of Peterson and Tom Brady is intriguing to say the least.
Of course, the Patriots aren't the only Super Bowl contender Peterson might take less to play for next season. The Raiders and the Packers have rosters ready to contend as well, so those are other options that might play out for Peterson once free agency starts on March 9.