For the first time in years, expectations are high for the Jacksonville Jaguars, in large part thanks to a potentially blooming connection between Trevor Lawrence and Calvin Ridley.
This relationship is important because the Jaguars were missing that critical X wide receiver last year. Before the start of last season, the franchise put their trust in the hands of a receiver who had yet to reach a 1,000-yard season in Christian Kirk. It was a big risk that ended up paying off, but Kirk is a pure slot receiver lining up all over the field.
In his best season with the Arizona Cardinals in 2021, Kirk had 702 snaps from the slot and only 187 snaps lined up out wide, per PFF. The Jaguars social media team nicknamed him the "slot machine" before his first season with the team, so it came as a surprise to Jaguars fans to see him playing so much on the outside in 2022. Last season with the Jaguars, Kirk's snaps on the outside doubled to 304. Even with him reaching 1,108 receiving yards, the former Cardinals receiver wasn't given the opportunity to flourish in his best position, the slot. His EPA last year when lining up out wide was 0.61, and from the slot was 25.02, per SIS. That's a huge jump, and this is where Calvin Ridley comes in.
When Ridley was with the Atlanta Falcons, his snaps by position were almost the exact opposite of Kirk's when he was in Arizona. In 2020 Ridley had 102 snaps from the slot and 718 out wide, per PFF. In that year he ended with 1,374 receiving yards, 90 receptions, and nine touchdowns.
Ridley has athletic ability unlike anyone else on the Jaguars team. He's been praised in the past from his teammates for his work ethic and ability to make plays. His route running is crisp, sudden and frankly, "on another level", according to head coach Doug Pederson.
"The way that this guy practices and at the speed in which this guy goes is just a completely different level," Pederson said.
When we watch Jacksonville's third receiver Zay Jones in practice, and then we watch Ridley, it's easy to see what Pederson is talking about.
Calvin Ridley just made Zay Jones look like he moved in slow motion pic.twitter.com/X5cgZUJrlE

— Mikey O?ver (@MikeyOver1) July 26, 2023
How Calvin Ridley and Trevor Lawrence Can Reshape Jacksonville's Offense
Ridley is going to be a game changer because he adds another dimension to the offense. The way he manipulates defenders by getting in their blind spot is something that this Jaguars team hasn't witnessed in a long time. He's able to get open and attack the middle of the field. The clip below was back in 2021 and Ridley was running an "out" route, but the way he was able get inside and turn the defender completely around and then make his break at the defenders back is impressive.
Ridley can run every single route on the route tree. So, the Jaguars offense won't be limited when it comes to choosing plays based on personnel. He's not strictly an outside receiver who can only go deep. He is at his best when he is asked to change direction. Here are his percentage of routes run, per SIS: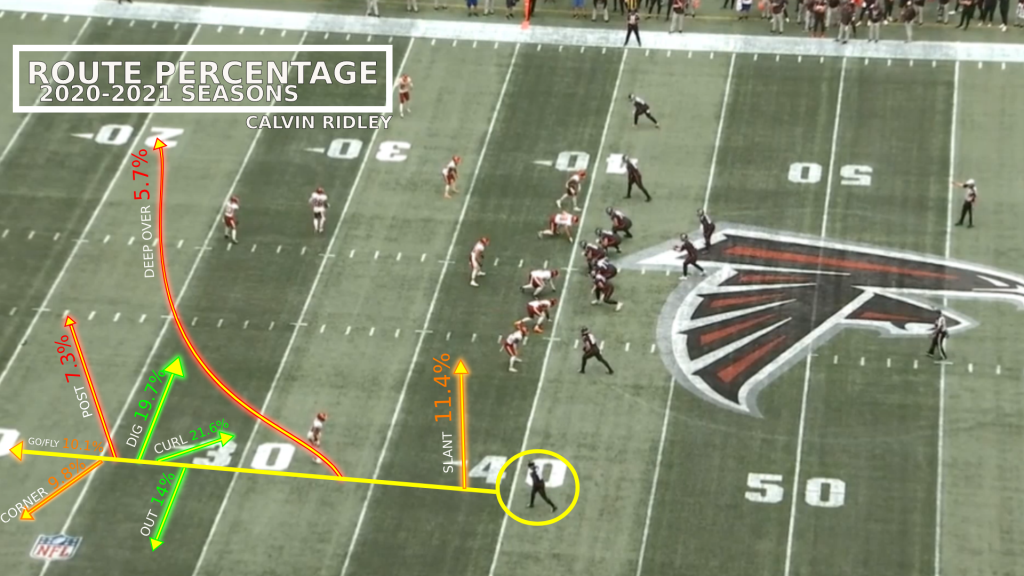 Among all receivers in the NFL who ran out, curl, and dig routes in 2020 (min. 20 receptions at 10+ yards), Ridley led the league in receptions with 18, receiving yards with 329 and he was fourth in yards per reception, 18.3. Trevor Lawrence's bread and butter is throwing the "out" route. He was sixth in total attempts with 75, led the league in EPA with 32.40, and was also second in touchdowns with four, per SIS. We already saw Lawrence's and Ridley's connection in preseason. The first two passes were both towards the sideline.
Lawrence and Ridley's first connection pic.twitter.com/ONawel7UZp

— Fitz (@LaurieFitzptrck) August 12, 2023
When we look at deeper routes like a "corner" route, that's when it gets exciting. "Corner" and "Out" routes made up 53.6 percent of Ridley's touchdowns and 60 percent of Lawrence's college passing touchdowns were on 7-9 routes (Corner, Post, Vertical), per SIS.
Doug Pederson helped correct the wrongs of Trevor Lawrence's rookie year.

The next step is showcasing how explosive he can be as a passer.

60% of Lawrence's college passing touchdowns were on 7-9 routes (Corner, Post, Vertical).

That is where Calvin Ridley comes in.

53.6% of? pic.twitter.com/FJdtFMRGW2

— Jordan Vanek (@JordanVanekDFS) July 18, 2023
Last year on routes of 15-plus yards or more, Kirk led the team in routes run with 31 and he also had 31 targets. That means every time he was asked to go deep, they gave it to him. Now it worked out most of the time, but with Kirk and Ridley side by side in heavy personnel, the Jaguars offense will be hard to stop.
Marvin Jones was second on the team with 30 routes run that were 15-plus yards, but he had only six receptions. Ridley will have a similar role, but he will be an upgrade. When Ridley was with the Falcons in the 2020 season, he led his team in routes run 15-plus yards and out of his 1,374 total yards that season, 816 yards were on 15-plus-yard plays. The clip above is in the heavy personnel which we should see more of this upcoming season.
Last year the Jaguars had the 11th most plays from 12 personnel (two tight ends). On plays of 15-plus yards or more, 21 percent of the Jaguars 815 air yards came from 12 personnel. Back in 2017 when Doug Pederson was with the Eagles, 44 percent of their 1,001 air yards came from two tight end sets. They lead the league in routes run from 12 personnel and also lead the league in total yards with 1,691 and touchdowns with 16, according to SIS. So, it's likely the Jaguars will move in that direction.
Ridley is great in isolation on a single side within the 12 personnel. In the clip below Ridley is lined up at the top of the screen and running an "out" route.
When Ridley is isolated to one side his EPA is 36.35 with 694 yards and five touchdowns, per SIS. With all these fantastic numbers, we must not forget that Ridley hasn't played a regular season snap since October of 2021, that's 659 days ago. We saw how this affected him on the very first offensive play in the preseason game:
Ridley has a welcome back to the NFL moment pic.twitter.com/IKUsUvtcAZ

— Fitz (@LaurieFitzptrck) August 12, 2023
There will be some learning curves for Ridley, so we shouldn't be shocked if he were to get off to a slow start as he establishes himself in the Jaguars offense. This is why he's snuck in some extra practice reps in organized team activities, according to Mark Long from Associated Press.
All in all, the numbers look favorable for the Jaguars offense to become one of the top units in the league. According to ESPN, the Jaguars had the 10th ranked offense last year. Ridley could be that missing piece that can come in and grab those deep passes that Kirk was forced to make and help his team move up a few spots.
If Ridley can stay healthy and eventually pick up from where he left off when he was with Atlanta, he could end up taking those passes from Kirk and becoming the leading receiver for the Jaguars.
Want More Sports News?
Get the biggest and best sports news sent directly to your inbox.