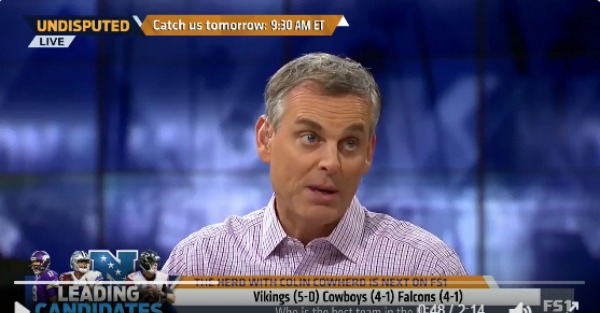 Twitter screen shot
https://twitter.com/undisputed/status/785516340954050560
Colin Cowherd always gave off the vibe of a New England Patriots fan boy, so it's a little surprising to hear him say that any other team is the league's best "by a long shot."
Monday on Fox Sports 1's Undisputed with Skip Bayless and Shannon Sharpe, Cowherd called the Minnesota Vikings the best team in the NFL.
"I think Minnesota is the best team in the league by a long shot. You can just see the confidence every week from that offense," Cowherd said. "We know the defense is great but now you're watching an offense that's gaining steam…When I watch Minnesota, they look like Seattle four years ago. They're just faster and quicker. They're a different ace than everybody else in this league right now."
RELATED: Psycho Vikings fan bites heads off live fish at tailgate party
The move to acquire Sam Bradford after the season-ending injury to Teddy Bridgewater does seem more brilliant by the week. Since his arrival, the Vikings have beaten everyone, save for Green Bay in his first start, convincingly. After going 22-of-30 for 271 yards and two touchdowns Sunday against the Texans, Bradford not only has the Vikings sitting atop the NFC North at 5-0, he also owns the NFL's second-best QBR (109.8) and second-best completion percentage (70.4).
Next up for Minnesota is a date with the Eagles in Philadelphia, a game rife with juicy storylines. Bradford left the City of Brotherly Love to make way for rookie sensation Carson Wentz, and both have outperformed expectations to become two of the best quarterbacks in the league so far this season—also leading their respective teams to first place in their divisions.
Bradford may not seem like the type, but this game has vengeance written all over it.