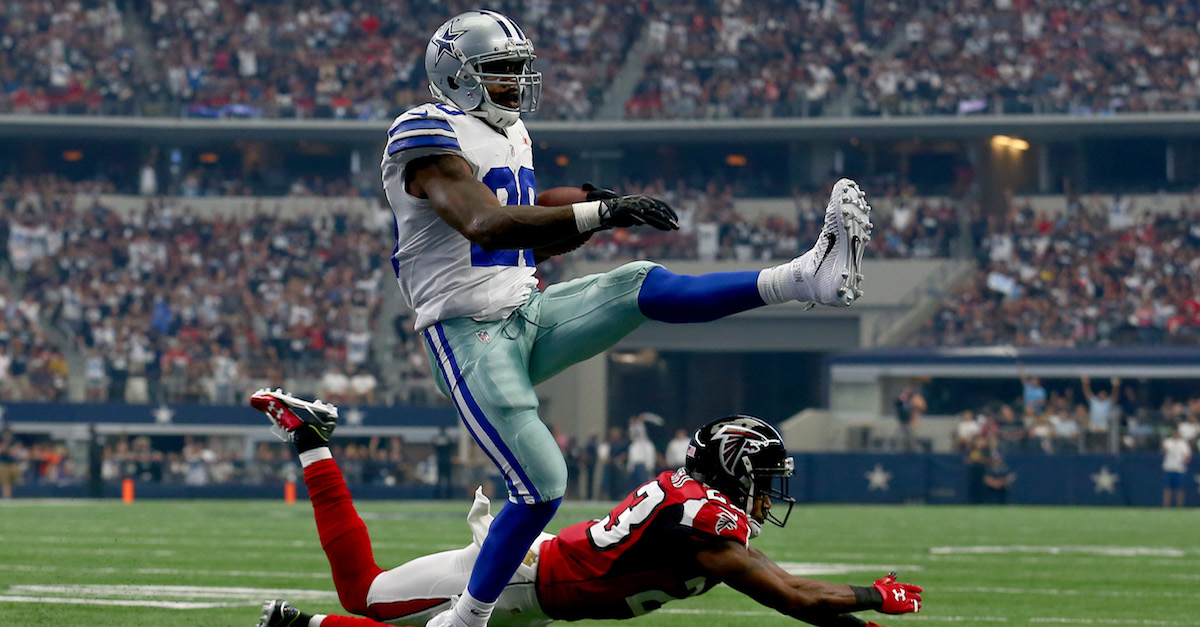 Tom Pennington/Getty Images
ARLINGTON, TX - SEPTEMBER 27: Darren McFadden #20 of the Dallas Cowboys scores a touchdown as Robert Alford #23 of the Atlanta Falcons defends in the second quarter at AT&T Stadium on September 27, 2015 in Arlington, Texas. (Photo by Tom Pennington/Getty Images)
After putting together a 1,000-yard season as the starter in 2015, Darren McFadden was supplanted as the starter in 2016 by Ezekiel Elliott after he fractured his elbow in a Memorial Day mishap.
McFadden, however, will return to Dallas to be the Cowboys safety net should something happen to the electric sophomore back:
McFadden was placed on the NFL (Non-Football Injury) List in late August, which gives a player a mandatory six-week recovery period.
Despite not having to pay him a dime, the Cowboys decided to pay McFadden his full $1.25 million salary.
During his run as the starter, he posted his second-highest rushing numbers of his career with 1,089 yards.
Throughout McFadden's career, he's been one of the more injury-prone backs in the league, suffering from hamstring ailments (missed 8 games), a sprained ankle (missed 8 games), a lisfranc sprain (missed 9 games), a fractured orbit bone (accident in practice and missed four games), a torn meniscus (missed four games), turf toe (missed 3 games) and a sprained shoulder (missed 1 game), per sportsinjurypredictor.com.
The Cowboys lost pass-catching running back specialist Lance Dunbar to the Los Angeles Rams earlier Thursday.