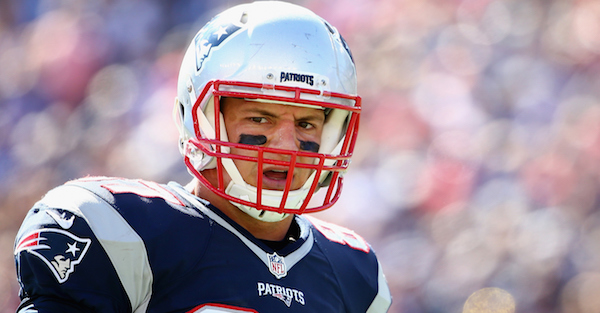 Maddie Meyer/Getty Images
FOXBORO, MA - SEPTEMBER 27: Rob Gronkowski #87 of the New England Patriots looks on during the game against the Jacksonville Jaguars at Gillette Stadium on September 27, 2015 in Foxboro, Massachusetts. (Photo by Maddie Meyer/Getty Images)
Rob Gronkowski underwent back surgery for a herniated disc this week, and he is expected to miss two months. This was Gronk's third back surgery, and he has had eight surgeries as a pro.
Related: Update released on Rob Gronkowski's lung injury, and it's not great news for the Patriots
MMQB's Albert Breer suggested on Thursday that the New England Patriots might look to cut ties with the All-Pro tight end sooner rather than later.
Breer points out how Bill Belichick has been known to trade players sooner than people expect, as he did with Randy Moss, Deion Branch, Richard Seymour and more recently, Chandler Jones and Jamie Collins. If Belichick can get a great return on his investment, he might make the move sooner rather than later. Gronkowski, 27, might be the best tight end in NFL history, but his injury history has been detrimental to the Patriots' postseason success in recent years.
The Patriots have a backup plan with Martellus Bennett, but at age 30, he likely isn't a long term solution. Even with his injury history, Gronk will still likely fetch an impressive haul of draft picks for the Patriots. It would be a bold move — especially since Gronk still has three years and $24 million still left on his deal — but Belichick has never shied away from making bold decisions.