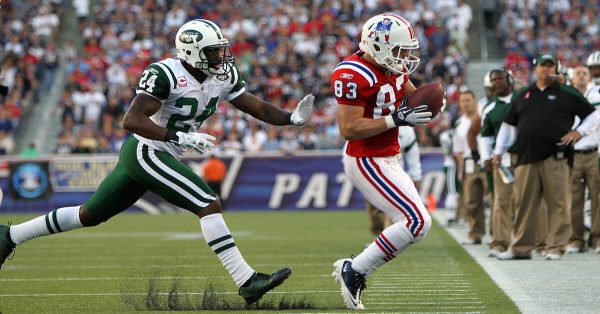 Jim Rogash/Getty Images
FOXBORO, MA - OCTOBER 9: Wes Welker #83 of the New England Patriots catches a pass against the defense of Darrelle Revis #24 of the New York Jets in the first half at Gillette Stadium on October 9, 2011 in Foxboro, Massachusetts. (Photo by Jim Rogash/Getty Images)
Darrelle Revis is in the second year of his massive five-year, $70 million contract with the New York Jets, but the former All-Pro cornerback is having the worst year of his career.
Related: Revis Island is still alive and well at cornerback, but a position change might be in the cards
There are now rumors surrounding Revis suggesting he's close to retirement. A Revis confidant reportedly told the New York Daily News that Revis is "done."
"He's done," the Revis confidant said. "If he had his way, he'd be done right now. He doesn't want to play anymore. He's made a lot of money."
Revis, 31, will be owed $13 million next season. The Jets have until March to make a decision on Revis, as he is due a non-guaranteed $2 million roster bonus.
A move to safety might be beneficial for both Revis and the Jets if they decide to keep him on the roster. Revis can't cover one-on-one like he could in his prime, but he could still be an effective player at safety. Charles Woodson made a similar transition for the Green Bay Packers and Oakland Raiders, and he was able to still be a great player until he retired after last season.
Either way, Revis' days as an elite cover corner are likely over. The Jets are almost certainly regretting his massive contract, and Bill Belichick probably feels like a genius for not giving him that kind of money.
(h/t New York Daily News)