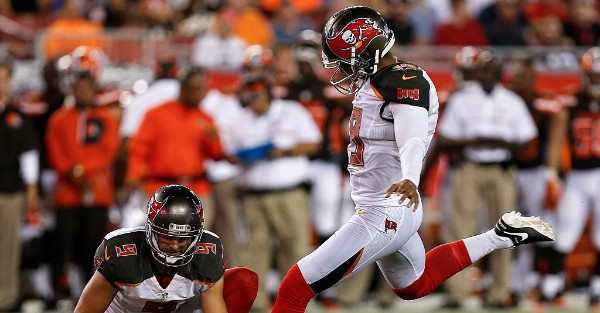 Don Juan Moore/Getty Images
TAMPA, FL - AUGUST 26: Kicker Roberto Aguayo #19 attempts a field goal with punter Bryan Anger #9 of the Tampa Bay Buccaneers holds the ball during a preseason game against the Cleveland Browns at Raymond James Stadium on August 26, 2016 in Tampa, Florida. The Buccaneers defeated the Browns 30 to 13. (Photo by Don Juan Moore/Getty Images) *** Local Caption *** Roberto Aguayo; Byran Anger
Week 9 wasn't particularly good for NFL kickers, as the group missed an unprecedented 12 extra points.
Ironically, however, Roberto Aguayo, who began the season as one the league's worst, was the week's best, connecting on all four of his field goal attempts and nailing his only PAT in Tampa Bay's 19-17 road victory over the Kansas City Chiefs.
The second-round pick out of Florida State was successful on field goals of 41, 36, 31, and 22 yards on his way to being named NFC Special Teams player of the week.
It was quite the contrast from a career that came close to being snuffed out before it even began. Aguayo looked to be headed for the door after missing a handful of field goals and PAT's in his first two preseason appearances, and rumors began swirling that he might not even make the Bucs roster.
RELATED: What the hell is Jameis Winston doing?
Aguayo did an about face just in time, however, drilling five out five field goal attempts and making all of his PATs in Tampa's final two preseason games. On the season, he's made 13-of-15 field goal attempts and 20-of-22 PAT's.