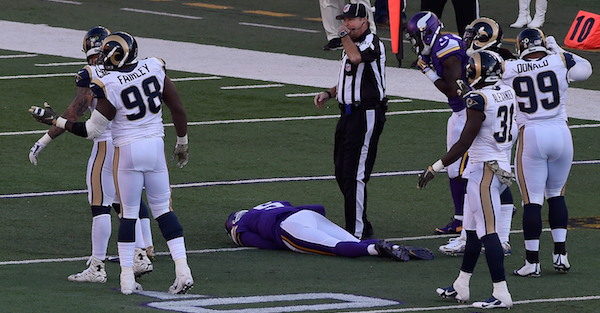 Hannah Foslien/Getty Images
MINNEAPOLIS, MN - NOVEMBER 8: Teddy Bridgewater #5 of the Minnesota Vikings lays on the field after a hit by Lamarcus Joyner #20 of the St. Louis Rams during the fourth quarter of the game on November 8, 2015 at TCF Bank Stadium in Minneapolis, Minnesota. The Vikings defeated the Rams 21-18 in overtime. (Photo by Hannah Foslien/Getty Images)
After Teddy Bridgewater suffered a devastating knee injury before last season started, it was obvious he would miss the 2016 season. Unfortunately for Bridgewater and the Minnesota Vikings, it appears as if he might miss the 2017 season as well.
Related: Questions remain on Teddy Bridgewater?s recovery from devastating knee injury
Bleacher Report's Jason Cole cited sources within the organization as saying Bridgewater won't be fully cleared medically until the spring of 2018.
?Doctors told the team that the shortest recovery time for that type of injury has been 19 months. Based on that timeline, Bridgewater won?t be recovered until March 2018 in the best case scenario.?
Just 25 minutes into practice back before the 2016-17 season began, Minnesota Vikings quarterback Teddy Bridgewater went down with a torn ACL and dislocated knee in one of the more horrific injuries we?ve heard described.
The latest questions surrounding his return come after it was reported Bridgewater may never return to the field according to a report by ESPN?s Adam Schefter back in October, as transcribed by CBS.
?Teddy Bridgewater continues to rehab in Minnesota and he is making progress. Nearly two months after he dislocated his knee, Bridgewater is making strides and Vikings officials are pleased with where he?s at. But other doctors around the league know there are no guarantees Bridgewater will be able to return to the type of quarterback he was, if he makes it back to the NFL at all.

As one doctor who?s worked with NFL teams said this week, ?If he didn?t make it back, it wouldn?t surprise me. This is a bad injury, about the worst knee injury a player can have.?
An ambulance was called to the Vikings practice facility when he was injured, and Bridgewater?s leg was reportedly flailing after his leg ?snapped.? It was so bad that Bridgewater was reportedly sedated and head coach Mike Zimmer spoke with the quarterback?s mother ?several? times, detailing the severity of the injury.
Apparently, the injury was so bad, Bridgewater could have lost his leg.
In just his second season in the league, Bridgewater led the Vikings to the playoffs, where they suffered a chilly defeat to the Seattle Seahawks. The Vikings went 11-5, as Bridgewater game-managed Minnesota to 14 touchdowns through the air and nine interceptions.
The Vikings traded a first round pick for Sam Bradford at the beginning of the season, and Bradford will likely be the starter again next season. Vikings coach Mike Zimmer said on ESPN that he would never bet against Bridgewater.
?It was a terrible injury,? Zimmer said. ?He?s doing well. We don?t know when he?ll be back. There?s been so much variation with these types of injuries and how long some of them have taken compared to others. But Teddy, I would never bet against this guy. He?s got a smile on his face, he comes in and works hard every day. You wish everybody that was injured would act exactly like he does.?
Hopefully Bridgewater is able to recover and play again soon, but it doesn't appear as if he'll be available for next season.
(h/t 1500 ESPN)