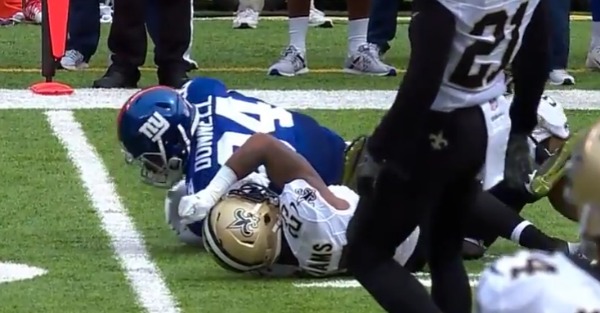 Screenshot
New Orleans Saints cornerback P.J. Williams was knocked unconscious in the scariest injury of the week Sunday against the Giants.
Williams suffered a concussion when in the game's first half he was kneed in the head twice while attempting to tackle Giants tight end Larry Donnell—once by Donnell himself and a second time by teammate Craig Robinson. According to preliminary reports, he's expected to make a full recovery.
RELATED: Saints DB carted off the field after terrifying head injury
Williams lay on the field motionless after the collision, with players from both teams surrounding him as he was attended to by medical personnel.
The 2015 third-round pick out of Florida State is being evaluated by the league and will follow the NFL's concussion protocol, which could keep him sidelined for a little while.