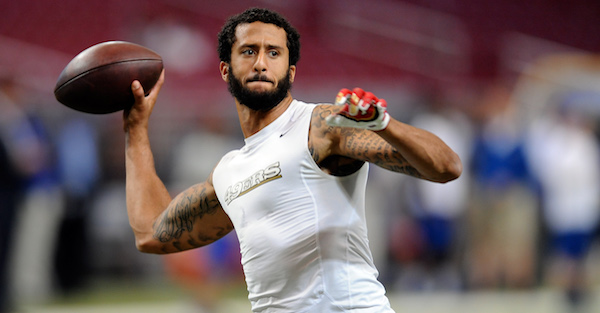 Michael B. Thomas/Getty Images
ST. LOUIS, MO - NOVEMBER 1: Colin Kaepernick #7 of the San Francisco 49ers warms up prior to a game against the St. Louis Rams at the Edward Jones Dome on November 1, 2015 in St. Louis, Missouri. (Photo by Michael B. Thomas/Getty Images)
Colin Kaepernick remains unsigned at this (late) hour of the NFL offseason and there has been a ton of speculation as to why. Recently, the Seattle Seahawks seemed to be nearing a deal with the former San Francisco 49ers quarterback but at least one report indicated that monetary issues were the dividing line when a deal was not reached.
However, Mike Florio of Pro Football Talk does not see it that way, as he reported a different reason that was in line with Seahawks head coach Pete Carroll's thinking that Kaepernick is still "a starter in this league" and how that might affect things:
Instead, the Seahawks have made the strategic decision not to add a player they regard as starting-caliber because they have a starter. While that could change if their starter suffers a serious injury, the reluctance of a team driven by competition to embrace a competitive option seems odd — unless the Seahawks don't want to have an in-house option to which the Russell Wilson resenters can point if/when he struggles during the regular season.
The Seahawks have a dire need behind Russell Wilson for plain competence and, as of this moment, Seattle might have the worst backup situation in the NFL, having just signed the little used Austin Davis to compete with Trevone Boykin. Whether Boykin will even be able to play is another issue. He was arrested twice within a span of 11 days, and there's no word in whether the NFL or the Seahawks will discipline him in some way.
RELATED: An NFL quarterback has been arrested twice in 11 days.
With that said, there could be some reasoning based on the situation with Wilson and, until that is refuted publicly, speculation to that effect likely isn't going anywhere.
It makes a ton of sense for Colin Kaepernick to end up in Seattle but now we have yet another reason why it might not happen.