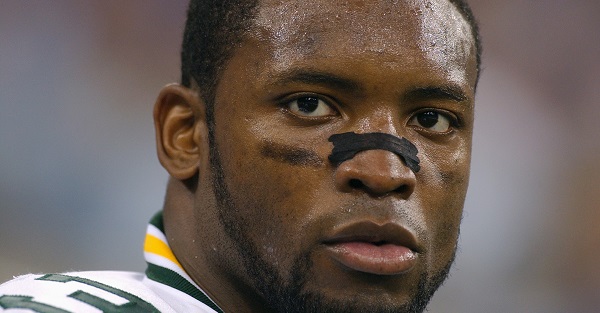 Jonathan Daniel/Getty Images
INDIANAPOLIS - SEPTEMBER 26: Running back Ahman Green #30 of the Green Bay Packers watches the game from the sidelines during the game against the Indianapolis Colts at the RCA Dome on September 26, 2004 in Indianapolis, Indiana. The Colts defeated the Packers 45-31. (Photo by Jonathan Daniel/Getty Images)
Ahman Green may not be the greatest running back in Green Bay Packers history but the now-retired athlete is the franchise's all-time leading rusher. Beyond that, he is an inductee into the organization's Hall of Fame (as of 2014) and Green's on-field accomplishments speak for themselves at this point. However, the 40-year-old is in big-time hot water if charges against him prove to be true.
Paul Srubas of the Green Bay Press-Gazette brings word that Green was arrested and later charged with suspicion of child abuse. The arrest reportedly came at approximately 11:30 pm on Sunday evening and, since then, Green has been in the Brown County Jail. According to the report, Green's charge stemmed from a "family matter" and the formal charge (on the jail's website) is described as "Child Abuse-Intentionally Cause Harm/Cruelty toward Child."
There are no other details. Green spent the lion's share of his career in Green Bay before playing for both the Seahawks and Texans and, as a result of longevity, Green is synonymous with the Packers organization. More details will likely arrive soon.