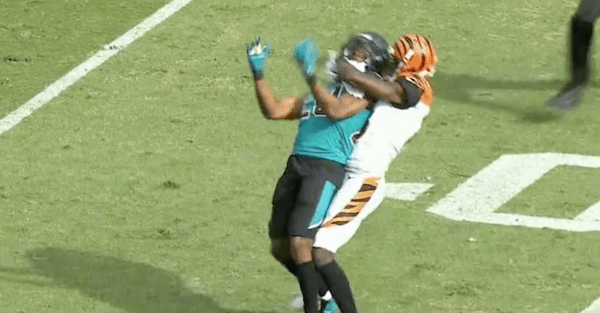 tscib429/Clippit
Ask any great cornerback. It doesn't matter how many catches you've given up until that point … the moment you know you've gotten into a wide receiver's head, that's when you know you've won the war.
On Sunday, second-year cornerback Jalen Ramsey successfully got into the head of A.J. Green during the Bengals-Jaguars game.
Ramsey, who has quickly become one of the NFL's most aggressive, most boisterous defensive backs, was being extra physical with Cincinnati's star receiver. And Green let his emotions come out in a big way by choking Ramsey from behind before slamming him to the ground. It wasn't long before Jacksonville and the rest of the Bengals joined the fight.
I mean, if this doesn't bring back memories of another famous AFC battle between a star wide receiver and an annoying cornerback ? cough, Andre Johnson and Cortland Finnegan, cough ? then nothing will.
Seriously, the Jacksonville secondary has been one of the best storylines of the NFL this season, and Ramsey has been a huge part of their success. Does it hurt the Jaguars that he was ejected from the game? Yes. But, you know what, Green was also ejected from the game, and his absence from the Bengals offense is probably more damaging than Ramsey's absence from the Jacksonville defense.
It's an interesting strategy, to say the least, but it's a strategy nevertheless.