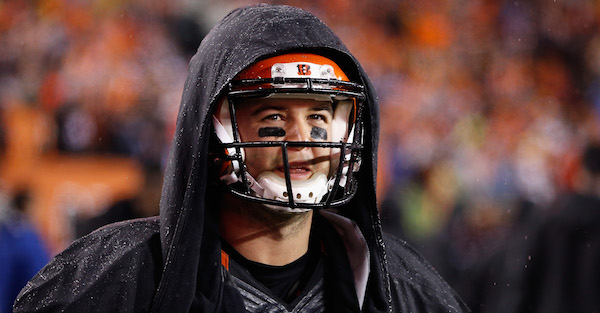 Joe Robbins/Getty Images
CINCINNATI, OH - JANUARY 09: AJ McCarron #5 of the Cincinnati Bengals reacts on the sideline in the fourth quarter against the Pittsburgh Steelers during the AFC Wild Card Playoff game at Paul Brown Stadium on January 9, 2016 in Cincinnati, Ohio. (Photo by Joe Robbins/Getty Images)
The Cleveland Browns have become synonymous with losing since rejoining the NFL in 1999.
But on Tuesday, the franchise managed to suffer a major loss off the field.
According to ESPN's Adam Schefter, the Browns attempted to trade for Cincinnati Bengals backup quarterback AJ McCarron prior to the league's deadline at 4 p.m. EST, but failed to get the deal finalized.
And you know, sometimes deals fall through. However, the reported reason for why the trade wasn't approved is perhaps the most Browns thing ever.
ESPN Cleveland reporter Tony Grossi reportedly told colleague Aaron Goldhammer that the team celebrated the deal prematurely and forgot to call it into the league office.
Wow.
Schefter added that the Browns reportedly attempted to dispute the NFL's decision, but the league held its stance.
The Browns have characteristically had a quarterback carousel as head coach Hue Jackson has made several changes throughout the season.
Many expected McCarron — a former national champion who has only appeared in six NFL games during two seasons since leaving Alabama — to be a potential trade target in 2017, specifically for Cleveland, including CBS Sports? Joel Corry, who detailed the potential deal in April:
?McCarron, a 2014 fifth-round pick, might be a better fit requiring far less draft capital. Browns head coach Hue Jackson was the Bengals? offensive coordinator in 2014 and ?15 so he already knows McCarron?s capabilities. Giving up at least the 12th overall pick in this year?s draft would be a necessity with Garoppolo.?
Corry discussed that the potential trade compensation was expected to see the Browns send a 2017 second-round pick and a swap of 2017 third-round picks in exchange for McCarron.
Additionally, Jackson worked with McCarron during his time in Cincinnati.
McCarron was a fifth-round draft selection and has thrown for 854 yards, six touchdowns and two interceptions during his short stint in the NFL.