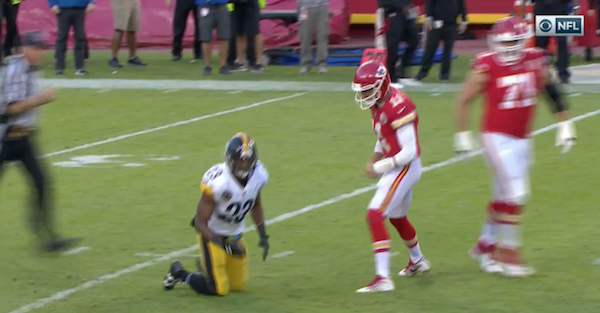 Clippit screenshot
Alex Smith
Speaking to reporters on Tuesday, Alex Smith still isn't over the hit that could have seriously injured him against the Pittsburgh Steelers on Sunday.
Smith lost his mind — and rightfully so. And he's not done there.
While speaking to reporters, the Kansas City Chiefs quarterback went off yet again on Mike Mitchell's hit at the back of his knees.
"I felt like it was extremely late," Smith said. "I felt there was nothing done there to avoid contact. It was really low from the backside. I thought it was about as flagrant as it gets when it comes to a low hit on the quarterback."
"I don't think this is a first offense, either," Smith said of Mitchell. "I think when you start looking at … repeat offenders, I think when they get shots at quarterbacks, they're going to take them."
Mitchell chirped back that he is not a dirty player, but the Steelers defender was assessed a 15-yard roughing the passer penalty.
The Chiefs lost Kareem Hunt for a few plays after he went into concussion protocol, and Tyreek Hill appeared to get knocked out cold on the final drive of the game.
The Steelers walked away with a big win over the unbeaten Chiefs, 19-13, but it certainly was an ugly one.