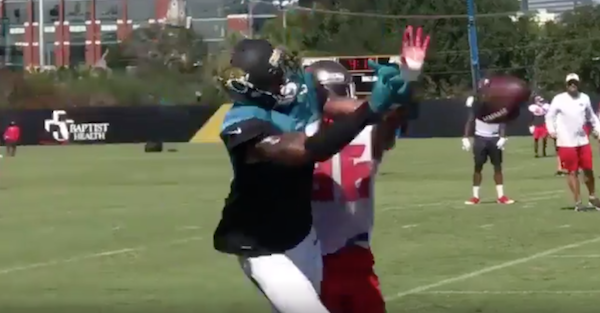 @PewterReport/Twitter
@PewterReport/Twitter
When the Jacksonville Jaguars selected Blake Bortles with the No. 3 overall pick in the 2014 NFL Draft, more than a few people were surprised by the selection.
He was taken over other quarterbacks like Johnny Manziel, Teddy Bridgewater, and Derek Carr. And while it appears Carr is the only star from that quarterback class, some people are wishing the Jaguars had gone in another direction — any other direction.
In a joint practice with the Tampa Bay Buccaneers on Tuesday, Jacksonville wide receiver Allen Robinson went one-on-one with Tampa Bay cornerback Robert McClain. After an errant throw from Bortles, Robinson voiced his frustration with his quarterback.
In case you couldn't hear it Robinson said, "F***ing keep that s**t in bounds, bro." Yikes
In three seasons, Bortles has totaled 69 touchdowns and 51 interceptions. He's completed 58.8 percent of his passes for 11,241 yards in 46 games.
After a 2015 season in which he threw 4,428 yards and 35 touchdowns, it appeared Bortles was due for a breakout 2016 campaign. However, he struggled with his throwing mechanics (possibly due to a slightly separated right shoulder) and totaled only 23 touchdowns against 16 interceptions.
With new head coach Doug Marrone at the helm and former New York Giants head coach Tom Coughlin now serving as the executive vice president of football operations for the Jaguars, it wouldn't be shocking if Jacksonville moved on from Bortles soon.
He'll be an unrestricted free agent after the 2018 season. With a loaded quarterback class in the 2018 draft, the Jaguars would have to consider taking a shot on someone like Sam Darnold or Josh Rosen if they find themselves picking in the top 10 once again.
[h/t The Spun]