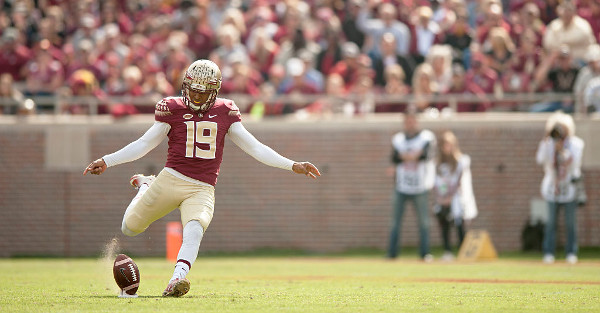 Jeff Gammons/Getty Images
Kicker Roberto Aguayo was as accurate as they came during his career at Florida State. In three years, he never missed an extra point while netting 88.5 percent of his field goal attempts.
RELATED: Bucs GM gives insane reason why he took Aguayo in the second round
He's off to a much rougher start to his NFL career, having already missed an extra point and two field goal attempts in two preseason games. That wouldn't be much of a story, only Aguayo was a second-round pick (59th overall) in this year's draft.
According to Roy Cummings of 620 WDAE, Aguayo has been talking to several people to help fix his problems, including his former kicker Ryan Longwell and, apparently, a "mental coach."
"I?m just focusing on relaxing and sometimes not thinking about it too much," Aguayo said, per Cummings. "When you?re overthinking like, 'Ok, I have to do this and this and this,' you get too many thoughts in your head. Sometimes you have to sit back and relax and just kick it. That?s the mindset going into practice and throughout this week."
It should be noted that Jenna Laine of ESPN says that everyone from his high school has a mental coach.
That doesn't change the fact that he thinks it's in his head and that Tuesday in practice, his struggles continued.
There's plenty of time left in his career, seeing as how he's only two preseason games into it.
If his struggles trickle down to the regular season, though, he'll surely be viewed as one of the worst second-round picks ever, simply because kickers don't usually go that high.
[h/t Bleacher Report]