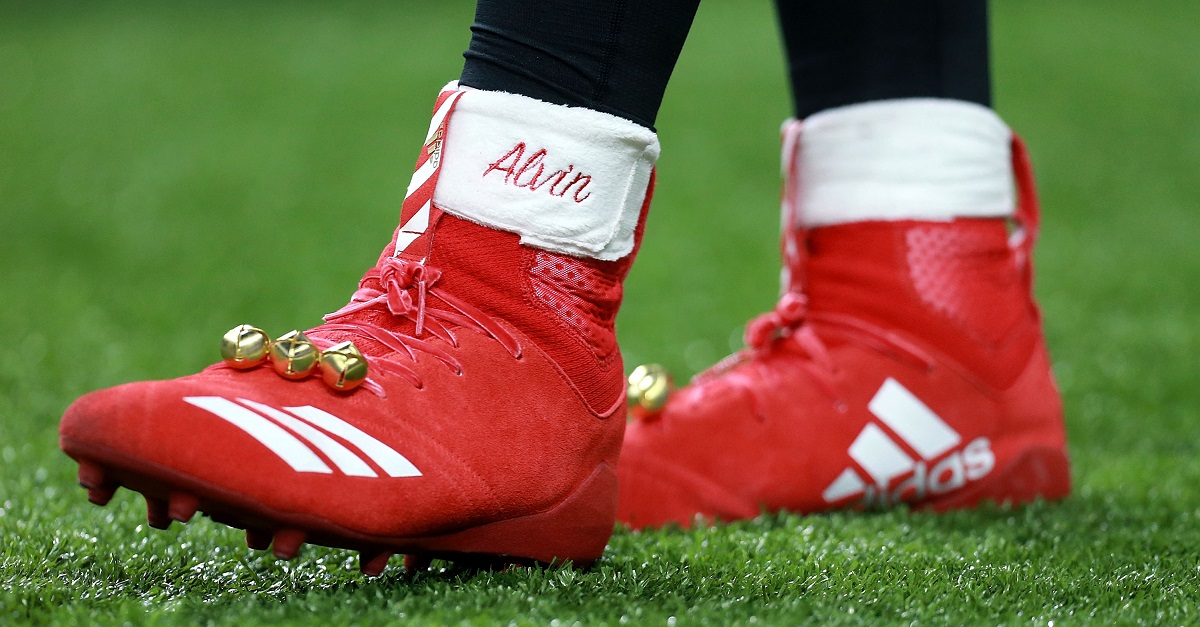 Sean Gardner/Getty Images
NEW ORLEANS, LA - DECEMBER 24: Alvin Kamara #41 of the New Orleans Saints wears holiday themed Adidas cleats for a game against the Atlanta Falcons at the Mercedes-Benz Superdome on December 24, 2017 in New Orleans, Louisiana. (Photo by Sean Gardner/Getty Images)
The NFL has been very picky in the past over uniform violations, and it doesn't look like the spirit of Christmas can keep commissioner Roger Goodell and co. from handing down a big fine.
On Thursday, New Orleans Saints running back Alvin Kamara revealed that he had been fined $6,079 for his decision to wear Christmas-themed cleats in the Saints' 23-13 win over the Atlanta Falcons on Dec. 24.
Kamara, a rookie running back from Tennessee, took the fine in stride, saying that he knew the NFL would take such an action. However, Kamara is turning the NFL's Grinch spirit into true Christmas giving, as Kamara has set up a donation page in the spirit of the fine in order to help raise money for youth football programs.
Unfortunately The Grinch stole Christmas!! After the game I said that I would make a gofundme for the fine and donate the proceeds to charity sooooo…. here we are! A donation will be made to Willie Hall playgrounds recreational department to provide cleats for their youth football programs.
As of press time, Kamara's fundraiser had almost reached it's $5,000 donation goal.
Kamara had 32 rushing yards and 58 receiving yards in the red cleats for the Saints in the Christmas Eve win over Atlanta. The performance has added to what has been a dynamic showing for Kamara in his rookie year, as he now has 684 rushing yards, 742 receiving yards, and 12 total touchdowns on the season.