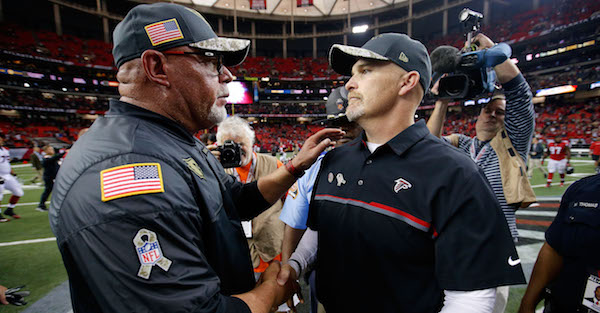 Kevin C. Cox/Getty Images
ATLANTA, GA - NOVEMBER 27: Head coach Dan Quinn of the Atlanta Falcons shakes hands with head coach Bruce Arians of the Arizona Cardinals after the game at the Georgia Dome on November 27, 2016 in Atlanta, Georgia. (Photo by Kevin C. Cox/Getty Images)
Larry Fitzgerald is already a legend and arguably the best player to ever suit up for the Arizona Cardinals. However, the future Hall of Fame wide receiver is in hot water with head coach Bruce Arians at the moment and that trouble comes for a wild reason.
In short, Fitzgerald caused Arians to undergo surgery to fix a torn rotator cuff. Kent Somers of the Arizona Republic brings word:
Bruce Arians' right arm is in a sling, and if the Cardinals' coach had his way, receiver Larry Fitzgerald's rear end would be in one, too.

That's because Arians recently underwent surgery to repair a torn rotator cuff, the result of Fitzgerald hugging Arians after the Cardinals beat the Seahawks in Seattle on Christmas Eve.

"It's all Fitz's fault, he caused the whole thing," Arians said this week. "It's going to cost him."

A get-well card isn't going to do it, apparently.

"It's going to be a get-well convertible," Arians said. "I'm still deciding what kind."
Arians is certainly within his rights to be upset with Fitzgerald, though there isn't much he can do. On the bright side, the injury was suffered as a result of a fantastic win for the organization and, if it was any other player, they might be under real scrutiny.
However, it was Larry Fitzgerald. Good luck going against that particular player.