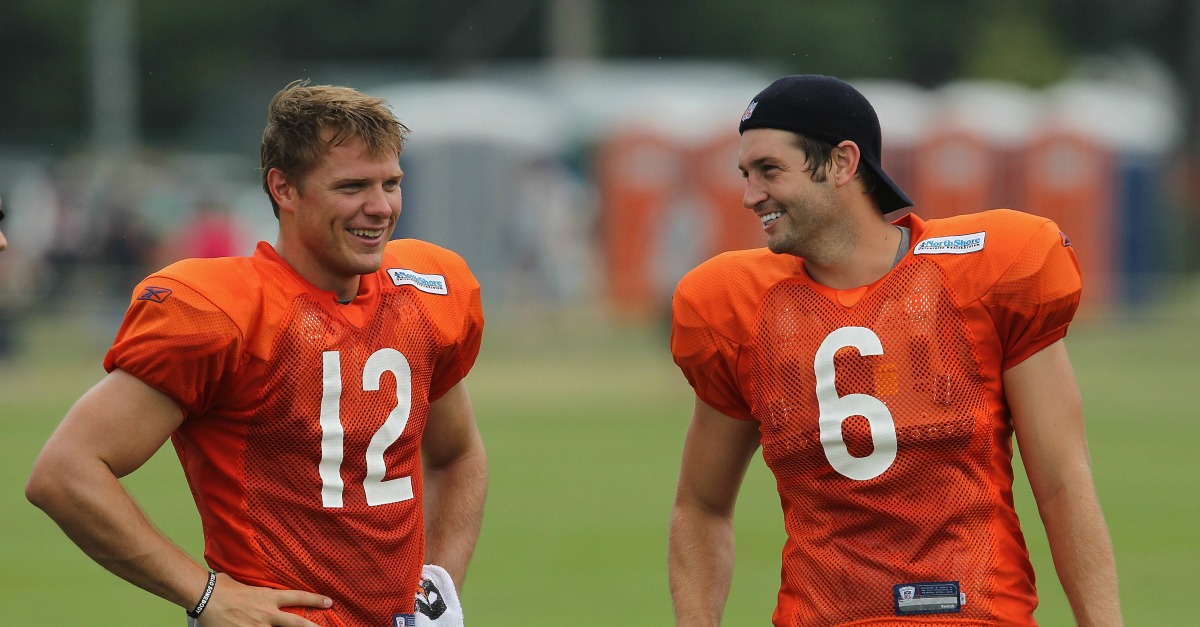 Jonathan Daniel Getty Images
BOURBONNAIS, IL - AUGUST 06: of the Chicago Bears works out at a summer training camp practice at Olivet Nazarene University on August 6, 2011 in Bourbonnais, Illinois. (Photo by Jonathan Daniel/Getty Images)
When Tony Romo retired, it took a big name off the quarterback market – and may have hurt the quarterback needy Houston Texans most. Now, a report says the Texans are taking a look at whether one of two veteran – and each controversial in their own right – quarterbacks are worth  pursuing.
The team is looking at both Colin Kaepernick and Jay Cutler as it tries to find an option at quarterback, according to State of the Texans
RELATED: The latest excuse for team's not signing Colin Kaepernick has nothing to do with the anthem protest
Each comes with their share of baggage that's been well documented. Kaepernick's national anthem protest has made him a piranha among some NFL teams, and Cutler has a rep as being a lousy clubhouse guy.  But, the Texas are in really bad shape at the most important position on the field. They're only two quarterbacks right now are Tom Savage and Brandon Weeden, and that's simply not good enough.
You can argue that even with Kaepernick's declining play and Cutler's inconsistency, either is a better option, especially if the Texans can land either on a cheap, short-term, rebuild-value contract.