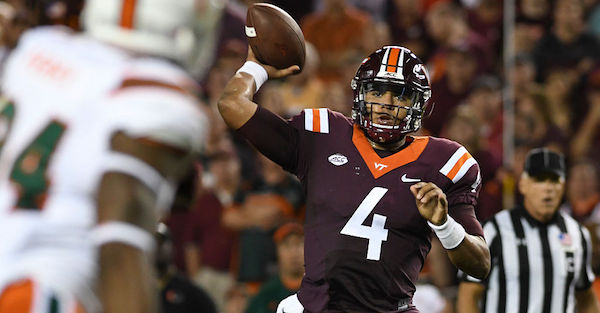 Michael Shroyer/Getty Images
BLACKSBURG, VA - OCTOBER 20: Quarterback Jerod Evans #4 of the Virginia Tech Hokies throws against the Miami Hurricanes in the second half at Lane Stadium on October 20, 2016 in Blacksburg, Virginia. Virginia Tech defeated Miami 37-16. (Photo by Michael Shroyer/Getty Images)
Ten quarterbacks were taken in the 2017 NFL Draft, but former Virginia Tech QB Jerod Evans wasn't one of them.
Related: One NFL team just fired its GM not even a day after the NFL Draft
Evans was obviously less than pleased about not being drafted, and he tweeted about how teams would regret not drafting him.
NFL.com had Evans projected as a fifth or sixth round pick, but other QBs such as Nathan Peterman, Chad Kelly and Brad Kaaya were selected in the later rounds instead.
Draft analyst Mike Mayock wasn't very high on Evans anyway, and he thought he should've stayed in school one more year to develop as a passer.
?I don?t know why Evans came out this year,? Mayock said during a teleconference. ?I?m only commenting on pure football, and from a pure football perspective, he?s not ready for the NFL. He?s highly inconsistent from an accuracy perspective and I felt like [he] needed at least one more year."
Evans can sign somewhere as an undrafted free agent, and he will at least likely get a tryout with a team this offseason.
(h/t For The Win)