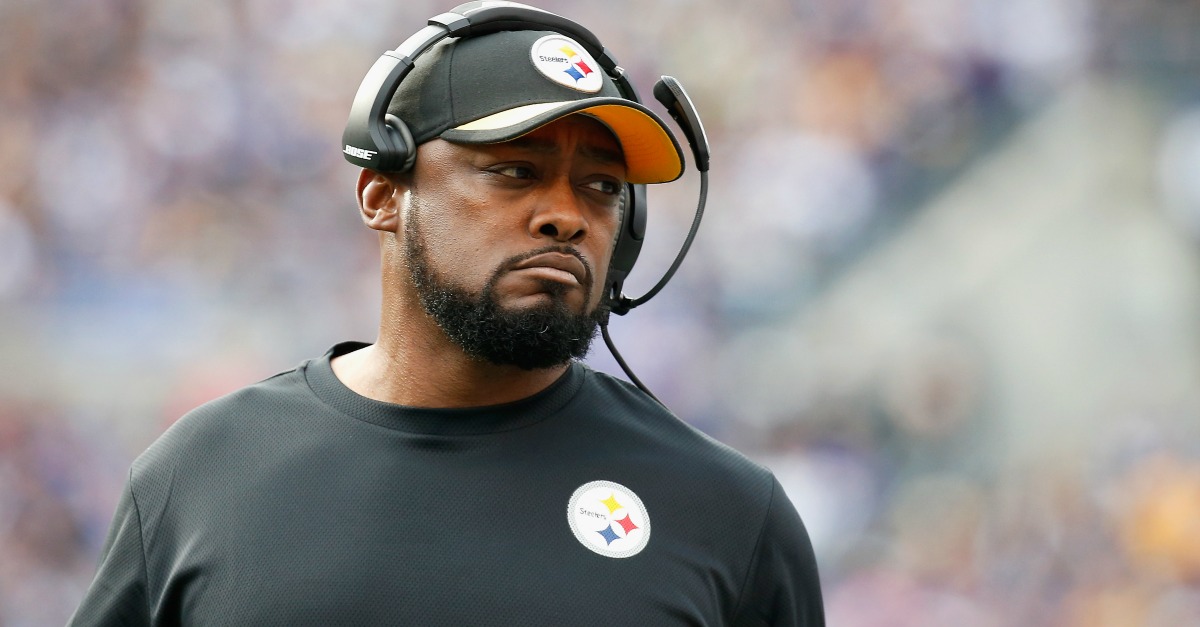 Rob Carr Getty Images
<> during the first quarter at M&T Bank Stadium on December 27, 2015 in Baltimore, Maryland.
Mike Tomlin is embarrassed. Worse, he's furious at one of his players, and has made no bones about it.
When the Pittsburgh beat Kansas City 18-16 Sunday , Tomlin, the Steelers head coach, was overjoyed and engaged in some locker room talk. His team will face New England for the AFC Championship and right to go the Super Bowl, and he called the Patriots "a**holes," among his other comments.
He didn't realize receiver Antonio Brown was broadcasting the scene on Facebook Live.
RELATED: Tom Brady says what happened in Pittsburgh would never happen in New England
Tomlin apologized for his use of language, saying that's why he and the team go to "great lengths" to keep certain team moments private. Then, proceed to tear into Brown.
"It was foolish of him to do that, selfish and inconsiderate. It was violation of our policy and league policy," Tomlin told the Pittsburgh Post-Gazette. "He's a great player, respected in the locker room, but incidents such as this don't help him in that regard."
Tomlin said the team will discipline Brown, and by noting that his player also violated league policy, hinted the NFL might take action too.
And the coach isn't the only one unhappy. Team leader and quarterback Ben Roethlisberger told a Pittsburgh radio station  he's "a little disappointed" in Brown as well.
"It's an unfortunate situation that we've got to deal with right now," Roethlisberger  said in his interview. "That's a sacred place where things are said and hugs and tears, and it's kind of a special place. So a little disappointed with AB for that. Coach talks and then I talk, and you just don't want everyone to know what's going on in there with the family. And also, I wish AB would have been listening to Coach and myself instead of being on the other side of the locker room filming."
Just the other day,  New England Patriots quarterback Tom Brady hinted that filming a video inside the locker room — and releasing it — not only violates the playe's private place, but speaks of a possible lack of respect.
"I think our team has a policy, we don't show anything that should be private because he feels when we are inside our stadium, inside the walls, there has to be a degree of privacy that we have. What's done in the locker room should stay in the locker room," he said during a radio interview.
This was a real bad look for Brown that's caused a major distraction for a team that should be preparing for, up until now, it's biggest game of the season. Not only did Brown disappoint his team, he foolishly gave the Patriots some bulletin board material.