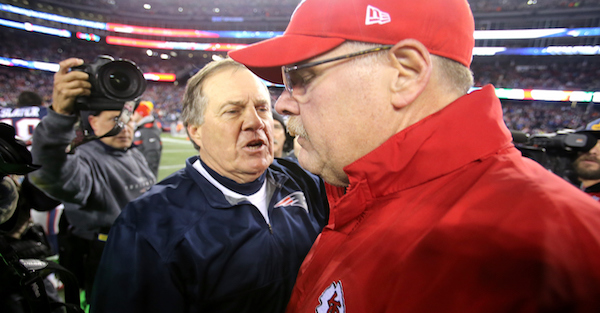 FOXBORO, MA - JANUARY 16: Head coach Bill Belichick of the New England Patriots and head coach Andy Reid of the Kansas City Chiefs shake hands after the AFC Divisional Playoff Game at Gillette Stadium on January 16, 2016 in Foxboro, Massachusetts. The Patriots defeated the Chiefs 27-20. (Photo by Jim Rogash/Getty Images)
The Kansas City Chiefs fell 27-20 against the New England Patriots Saturday afternoon.
Following the contest, Chiefs head coach Andy Reid noted his team experienced some headset issues, following in the footsteps of Pittsburgh Steelers head coach Mike Tomlin earlier in the season.
While he said the headsets worked fine in the crucial final minutes of Saturday's game, Reid said they went out "just a little bit, not much," during the first half when it came to communication with quarterback Alex Smith's helmet, per Fox Sports.
Any hint at the Patriots having an advantage is going to get put under a microscope considering the last year or so of coverage on DeflateGate.