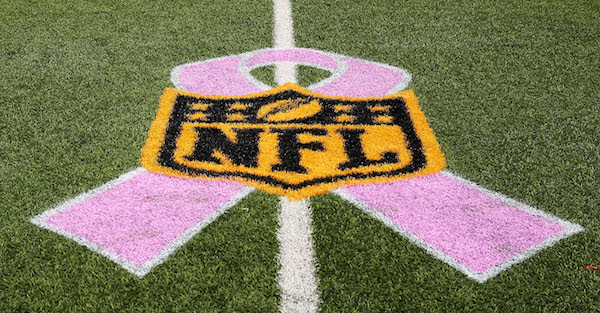 Brett Carlsen/Getty Images
ORCHARD PARK, NY - OCTOBER 04: A pink ribbon under the NFL logo in honor of Breast Cancer Awareness Month is pictured before the game between New York Giants and Buffalo Bills at Ralph Wilson Stadium on October 4, 2015 in Orchard Park, New York. (Photo by Brett Carlsen/Getty Images)
Over Tony Romo's 12-year career, he's seen his fair share of ups and downs, most recently playing just four games over a disastrous 2015-16 season.
So when anonymous NFL coaches and evaluators spoke with ESPN to discuss the NFL QB Tier Rankings, Romo's name was dropped to the second tier with this evisceration of a description.
"He doesn't play the game, he plays individual plays. He plays every play like they are down six with 1:40 left and there are no timeouts. He is the perfect guy at putting your team in a horrible situation. To me, if a play is not good, it is not in him to give up on it and move on. He always feels like he can make something happen. The way he played against Carolina on Thanksgiving was indicative of that."
Romo's 2016 was dreadful after two strong seasons where he put his touchdowns on the forefront and backed off on the interceptions.  He threw five touchdowns to seven interceptions in an injury-riddled season. That followed years of Romo's touchdown-interception ratio being 31-10 and 34-9.
With the addition of Ezekiel Elliott and Dez Bryant at full strength, Cowboys fans are hoping Romo can get his career back on track.